With all the fandom and jewelry talk around here, I haven't talked much about the writing/query process lately.
I'm starting my Monday morning with another round of queries. It's been about a month since the last round, so it's past time. Of the four I sent in February, I have yet to hear back from three, and one was a personal rejection. And this week I'm back at work on the space pirates book. Which, hey, will be much easier to query since I'll have a whole list of agents already compiled! LOL. Though I'm not looking forward to the whole "write the query and synopsis" portion of things again.
I am having a hard time waking up this morning, ugh. We're dogsitting the in-laws' cocker spaniel for the week, and two restless dogs does not make for a restful night's sleep. AT ALL. (On a side note, sometimes my husband drives me
absolutely nuts
, seriously. Yes, the dogs kept us up from about 3:00am on - this is not my fault! And
I'm
the one that had to get up ahnd go in to work today. Also, it
is
possible to look in our kitchen and find actual food to eat
without
calling me at work and asking "What is there to eat?" I know he survived as a bachelor long before he dated/married me, so the man isn't completely incompetent in the kitchen. Sometimes it's nice to feel needed, and other times it's just annoying. ::rolls eyes::)
Hmm, since I seem to have a complete lack of interesting content this morning, here are the earrings I made and listed this weekend: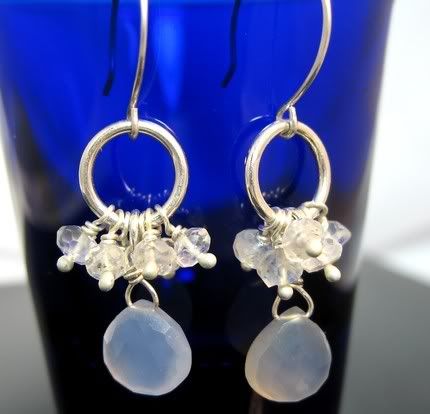 Chalcedony and rainbow moonstone. More info and pics at
my Etsy shop
.