WOW. That is really all I have to say about the gem show I attended this weekend. I went in not really looking for anything in particular, and came out with more swag than any other show I've attended. What can I say? It was fantastic, and a lot of what I found is stuff you literally DO NOT see anywhere. So I snatched it up.
A couple of group photos:
Usually it's kyanite, but this trip my weakness was labradorite. Hey, what can I say? It was too beautiful to pass up:
An eclectic mix, from top to bottom: raspberry quartz (flecks of mica look red in the stones), aquamarine nuggets, rectangle and large round kyanite (like I wasn't going to buy some?), some more labradorite in smooth flat ovals, and one of my favorite finds of the day, some gorgeous moss amethyst nuggets.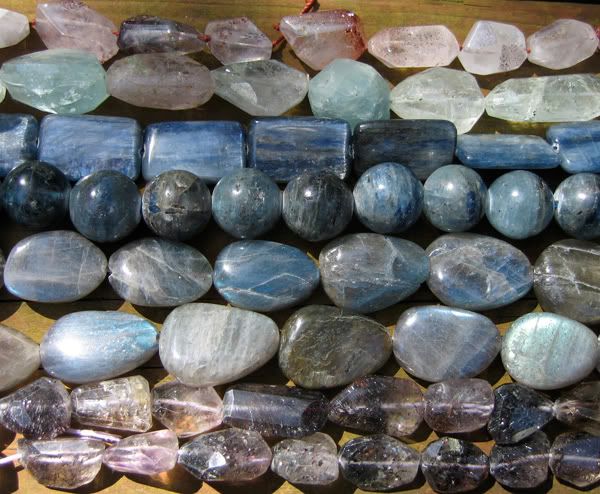 My gratuitous splurge of the afternoon, because I've been eyeing them for the past two bead shows, some mystic topaz briolettes: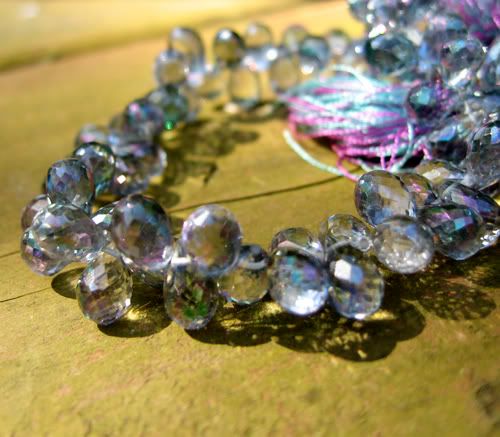 And a close up of that scrumptious, super rare moss amethyst. The vendor who had these has a shop in Monterey CA - he said their designer makes 3 strand necklaces of this stuff that sell for $1200 apiece! HOLY COW. I don't know what I'm making with them (though that 3 strand gave me some ideas) but I certainly won't be asking that sort of price. Still, I've looked - this stuff is super hard to find, and let me tell you, in person it is spectacular. Clear with purple-gray rutilations: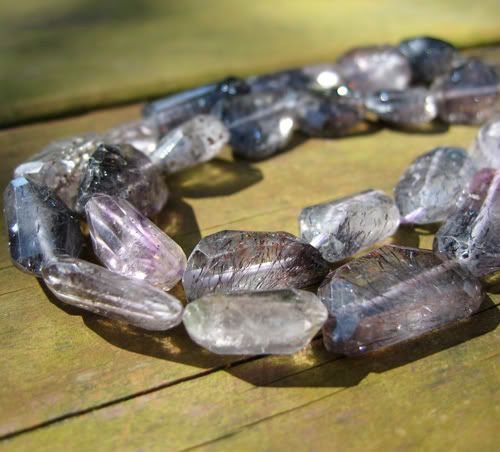 I will be listing some things in
my Etsy supply store
over the next few days, with more pictures and close ups, obviously. Some of the labradorite is already listed. And some of my afternoon will be making jewelry, because I literally dreamt about some of these stones last night.