You knew one of these was coming, right? After I said I was going to play with my torch last night. The good news is, my soldering adventures proved more successful than they ever have before. that silversmithing class has already paid for itself a million times over in lowered blood pressure and frustration levels.
First, I redid my tourmaline ring. The bezel was coming apart from my previous attempt (which will
never happen again
, whoo-hoo!!)
Here is the old ring: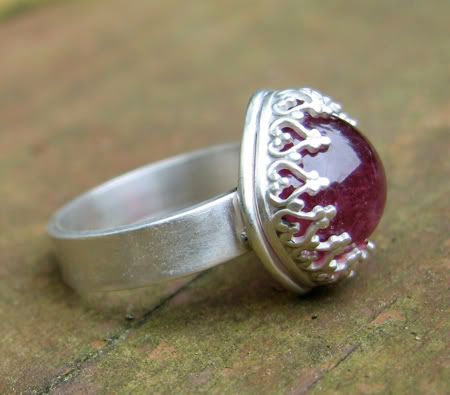 And here is the new and improved ring: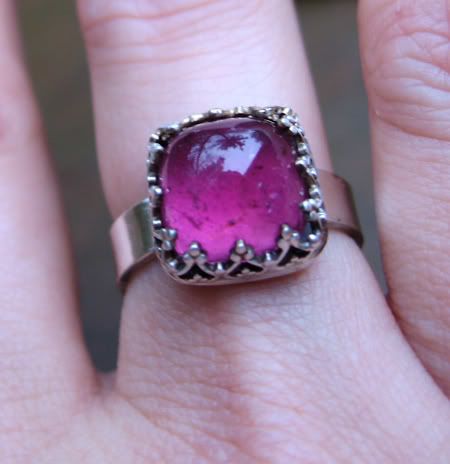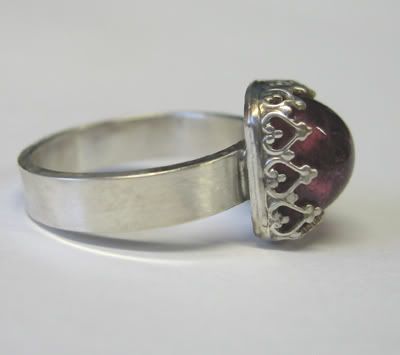 Compare the second pic of the new ring to the old ring - do you see how on the old ring, the bezel was barely seated on the base? You can actually see a line where they connect, which you shouldn't! Not so with the new ring. :D
Yes, those are trees reflected in both rings, not strange shapes in the stones.
And now for the pendant I made last night. You guys, I am so excited and pleased with how this one turned out. I think I'll do the bail a little differently next time, but really, this is so beautiful in person I have no complaints.
And
it's absolutely solid - nothing coming off this piece, ever! It's also without a doubt, the most complicated soldered piece I've ever made, and the easiest, which is mind boggling to me: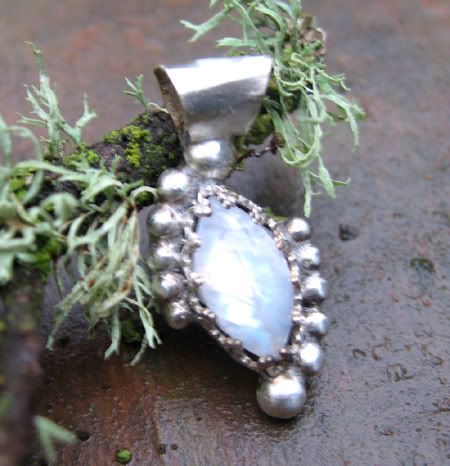 I had lighting problems with this, probably because I was trying to get that rainbow moonstone to flash its blue on a wet and foggy morning. It does in person, but capturing that with a camera is tough. I might take some more pictures tonight, we'll see.
Truly, my crappy pictures don't do this piece justice. The rainbow moonstone had an almost magical quality set in the silver.
I MAY offer this one in my Etsy store. I keep going back and forth on it, but I do think it's my first soldered piece truly good enough to sell.
I am totally going to make myself a silversmithing icon, just as soon as I can snap an appropriate picture. :D
Current Mood:
excited