A good friend of ours works for a company that ships things for Doc Martens. Every year up in Portland, DM does a warehouse clearance sale, where all the shoes they're trying to move by end-of-year get sold for $30 a pair (unless your in kid sizes, then it's $15). I mean ALL shoes, boots, whatever inventory they have that they want to move, which amounts to boxes upon boxes of Docs. This sale is not online. It's not in their stores. It's not even in their own warehouse. They rent an enormous building, pile shoes and boots and sandals everywhere, and then hand out tickets to places like the one where our friend works. You only get in the door with a ticket, and each ticket has a specific time printed on it that you must show up at to get in.
Our friend, heretofore never allowed to move away, quit his job, or stop being our friend, gave us one of his tickets. Ours was for today, from 10:00-2:00. The ticket was good for up to four people, so I invited L and our friend Paula (who lives up there), and the four of us trekked to the Doc Martens warehouse sale today, and did we every hit the motherload of shoe booty!
I all by myself scored $640 worth of boots and shoes for $165. That does not include the four pair of shoes Mark got. (His selection was a bit more picked over than mine, as his shoe size is apparently v. common.) We three women were in shoe heaven for the rest of the day. As in, we would occassionally just break into giddy excitement thinking about our new shoes. Mark was feeling a tad outnumbered, though he, too was happy with his purchases. (Men just don't quite get the relationship most women have with their shoes.)
My haul: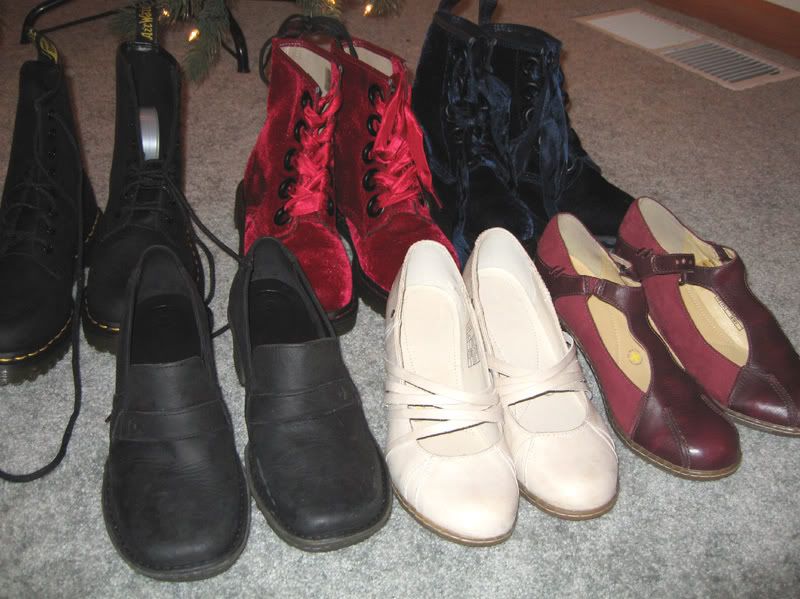 From top left to bottom right: a traditional pair of standard Doc boots, in black (one of those staples of one's closet), two pairs of velvet Docs, one red and one blue (so fun and cute and awesome that even Mark was like 'you should get both colors'), a pair of shoes for work that are the same exact style as the tall Doc boots I bought earlier this year, but in an easier to get on-and-off shoe, and two pairs of Doc heels, both very stylish looking on, for pairing with slacks.
Aren't they all just gorgeous? I just spread them out in my family room to oggle, trying to decide which pair to wear tomorrow. I think the blue velvet, as they will match my blue sweater perfectly. :-)
ETA:
I should add that my friend Paula was all virtuous and got shoes/boots for others as Xmas gifts. But she also got feverishly excited and purchased something like six pairs for herself, just like the rest of us. But she has freakishly small feet and got to buy them for $15 a pair! I did nothing so virtuous and purchased only for myself. i had the best of intentions, but then walked in and saw the wall-to-wall mountains of boots and shoes and...well...yeah.
Current Mood:
ecstatic