~ Sent another query today, in replacement for the rejection I got a few days ago. It would be nice to get another positive response someday. A request for a full manuscript would be awesome, but at this point I'd take a request for a partial and do a dance of joy. Before Christmas would be fabulous. Perhaps this will be one of those cases where the phrase "It never rains, but it pours" proves true?
~ For several days now, I've been fighting off a cold. Today at lunch, it seems to have decided to manifest full force, all of the sudden-like. WTF?
~ I haven't read any
Star Wars
books for awhile, but I've had several on my 'to read' list for sometime. And then last night I discovered the asinine story direction they've taken post-NJO, and
WTF?? They've turned Jacen into a Dark Jedi and had him murder his Aunt Mara?! Mara Jade, my favorite non-movie-verse character of EVER? I am so not reading the continuation of this series. I understand TPTB may have felt the need to add some strife and adversity to the lives of the Skywalker/Solos, but come on! I was okay with them killing Chewbacca, and I even handled the death of young Anakin, though I admit I was disappointed at his story/life being cut short, but this! What are they planning? A situation where young Ben must face his Master/cousin Jacen and defeat him? No, I don't want to know.
~ In the course of 'researching' (*cough*aka scouring the internet for pics*cough*) I came across this one of a lion cub. He is so full of cute and personality that I have to put him in the book. I'm not sure how, but he's going to be there.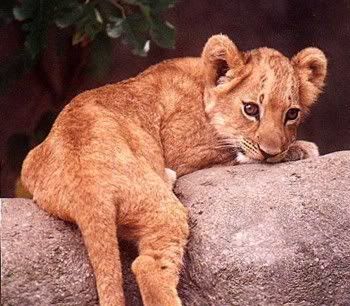 Current Mood:
sick