Well, five bobbles down, three more to go. Some have even begun arriving at their new homes already, and as they do, I'll be posting pics. A reminder, all bobbles are made with argentium silver rather than sterling, and as such, will not tarnish. They will, however, grow dirty and dull as with all other jewelry, if not occasionally cleaned.
kistha
's prompt was "Crescent moon (preferably with points up/left), ice blue, silver grey, war."
I went with a pendant:
The tiny rondelles are rainbow moonstone (particularly appropriate, I felt), blue topaz, and iolite, which can range from navy blue to light violet, bit is usually a darker indigo color. The single briolette is blue topaz.
There may be a couple of other bobbles arriving today, which means I'll add to this post. Until then, here is a set I've been working on 'in between' bobbling:
Every piece of this necklace is handmade, from the clasp, to the headpins from which hang the rondelles. As elegant and timeless as a strand of pearls, yet unique in design. Black onyx rondelles drip from argentium silver chainmaille. The perfect piece to showcase that little black dress, add a one-of-a-kind look to that suit, or even dress up a pair of jeans. Versatile and beautiful, I consider this an heirloom piece. ~ $190
And a matching set of dramatic earrings that dangle a full 2" from the ear: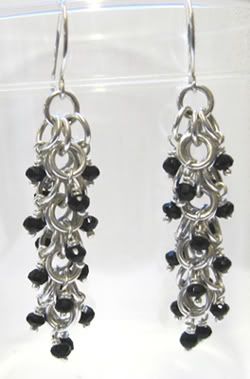 These earrings feature handmade earwires, specifically designed
not
to poke uncomfortably into your neck when talking on the phone. :) ~ $65
Sold as a set, ~ $240
Feel free to comment without fear of buying - only way to purchase is to send me an e-mail.