Hmm, it seems for a mere $500 more and an extra week of waiting, I could have gotten one of
these
, instead of my regular 13" Macbook. Of course, to get the same size HD and an even close to comparable processor speed, I'd've had to spend an extra
$1800
. Seems like an awful lot to get something two pounds lighter and half an inch thinner.
Nope, I'm not sorry I went ahead with the MacBook at all. :) Maybe by the time I need a new one, the MacBook Air will be a better value for the $$$. And really, the MacBook is already so much smaller and lighter than my old notebook, it already feels like a light and thin model.
Speaking of which, I went ahead an bought a screen cleaning kit (chamois, solution), a BestSkinsEver (pictured, also known as an Invisible Shield, but BSE is half the price for the exact same product), and a travel lock, so when I'm riding on planes and trains, I can feel secure that my laptop will still be there when I have to go use those teeny tiny bathrooms.
*Note: Even though my MacBook is white, all the pics of IS seem to like show the shiny protective coverings on black MacBooks. These were a real pain to put on, let me tell you, but in the end, so worth it! I like this so much, I've ordered one for my iPod as well. These are a great way to protect your valuable electronics while preserving the original look.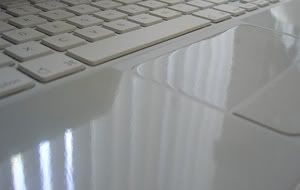 I seem to be rather enamored with my shiny new laptop, and more determined to keep it in its pristine original condition than I was with my thinkpad. Maybe it's all that white. :D
Hmm, some people should be receiving bobbles any time. As soon as I know they have, I'll post pics.