Hmm, no word from bobble recipients yet, but most people should have them by now...
Still, here are some new things, both commission pieces: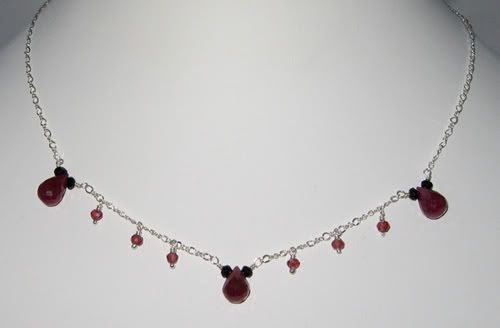 This is a custom variation on the simple necklace I posted last week. The briolettes are faceted rubies flanked by onyx rondelles. The rondelles hanging between each briolette are garnets. I'm supposed to make matching earrings as well, but haven't gotten that far yet. This needs a better picture. The rubies have a lot more sparkle than this shows.
This is a fun bracelet with flipflop chainmaille in argentium and anodized niobium, with labradorite rondelles and a swarovski crystal clasp. It almost jingles when worn. :) The customer is a friend who
loooooooves
to fiddle with things - hair clips, bottle caps, you name it. She wanted a bracelet that would be fun to play with. The blue rings really bring out the blue flash in the labradorite. I like the effect a lot.