We've had the white stuff coming down, on and off, since last Thursday night. Because we live on a big-ass hill that's approximately 100 feet above the rest of the city, and is also shaded so tends to be a few degrees cooler, we get more ice and snow than everyone else, pretty much always. Yesterday, I texted my boss a pic of my driveway/the hill with the words "that is not dry pavement in those wheel ruts - that is ice! I will not be in this morning."
Of course, due to the vagaries of cell phones, he didn't actually get the message until yesterday evening, but being a smart guy, he'd already figured out I wasn't coming in and why. He's heard me speak of my hill before. I just always feel like everyone looks around at the
rain
when I talk snow and ice, and thinks "Yeah, right." So, from now on I'll be sending photo evidence. :)
Though it is slightly above freezing today and things are melting/slushy, even on my hill, rumor has it that more snow is coming this afternoon. And another cold front will be moving in as of Thursday. *le sigh*
But that gave me plenty of time this weekend to work on several projects. One, my
Etsy shop
is now online and fully functional. I've got several things listed there, and I think it might be easier to shop there than through the Byzantium Lotus journal. Easier to look at stuff, add to your cart, etc. You have to register to buy, but registration is easy and free, and you can still use paypal to pay for your purchases.
I'm also hard at work on a new wire/beaded mask in copper, which I plan to darken to black and title "Evil Queen". I want to make a matching crown, too. so far, this is my favorite mask yet. I'm doing some different design stuff with color and the crystals. In the meantime, I experimented a bit with copper: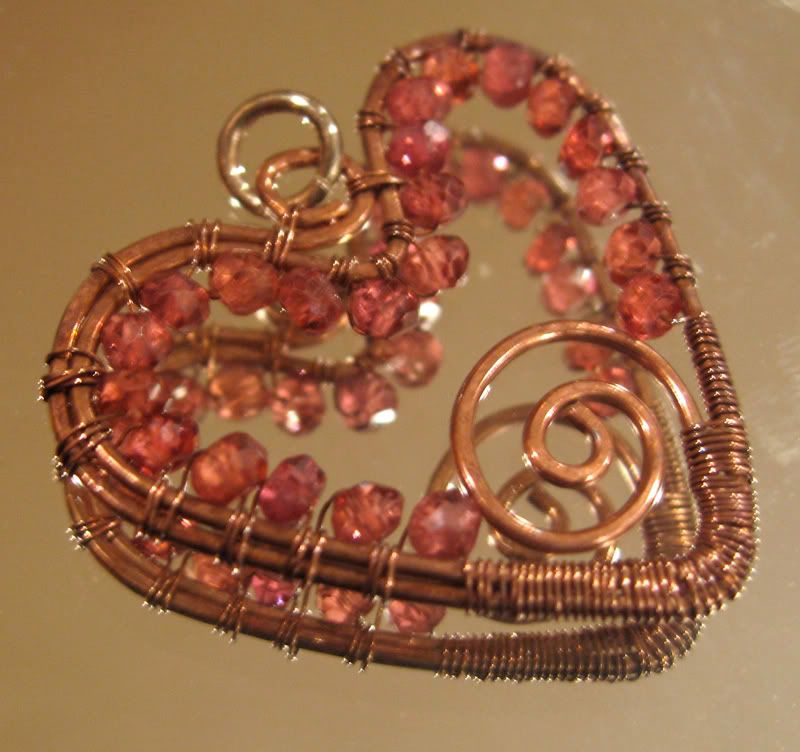 I photographed on a mirror, hence the seeing double. Sorry, I'm experimenting w/different photo methods. I also made a couple of sets of earrings, one for myself, because I loved them so, so, so insanely, and one to sell, because someone else just might love them just as much. These are 1 1/2 inch hoops made with genuine A+ sapphires that sparkle
unbelievably
. The sapphire rondelles are so amazing I literally couldn't make myself leave them in the store, and as much as I love sparkly things, that doesn't happen with stones very often. I couldn't capture it with my camera, sadly.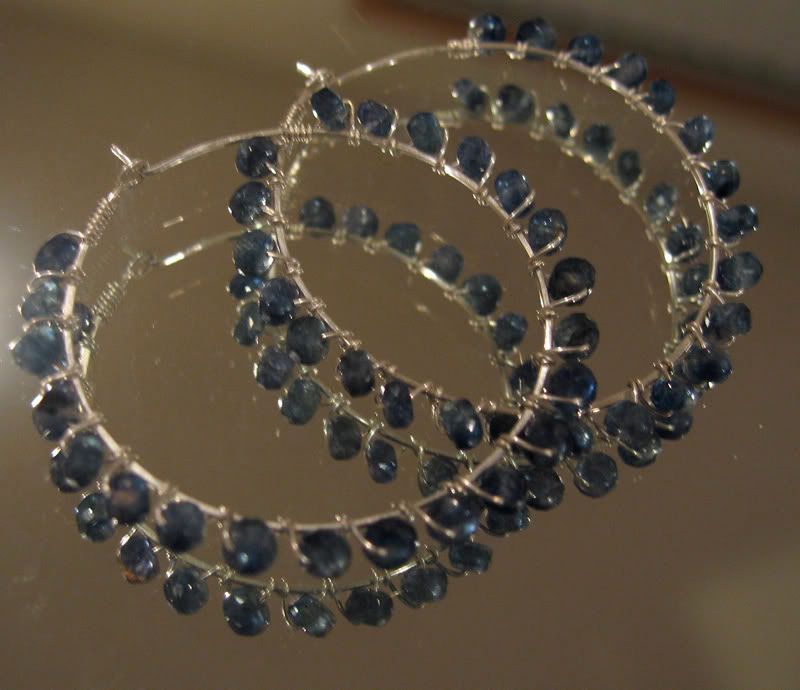 More photos of both of these items at the aforementioned Etsy store. :)
Oh, and Mark and finally finished
Deadwood
S3. What the crap was that? That's it? That's the end of the series? You suck, HBO.
Current Mood:
cold