So, between my allergy to copper (among other metals) and the usual callouses wirework gives one's fingers, my fingertips are a little raw feeling after this weekend's work. I had one of those inspirations that pretty much attack you and won't go away until you create whatever they're demanding. Copper egyptian coil and lapis lazuli.
Egyptian coil is one of those ancient techniques (like chainmaille) practiced by, well, the Egyptians. It looks easy but is deceptively difficult. This is actually my third attempt at it, and the first time I've been satisfied with the result. Getting the coils all uniform and even is hella tough, even with careful measuring of wire length. Anyway, success! Even if my fingers do feel like they're cracked and bleeding. (They aren't...quite.)
I used copper and lapis because the art muse demanded it - I couldn't get the combination out of my head. The Egyptians liked copper, and they loved lapis, and the two do complement one another beautifully - could be those copper inclusions in the lapis, but also, the blue looks stunning against the rose gold color of the copper.
Saturday night I formed and hammered all the coils. Then I broke out the torch and made the headpins, pickled them, and tumbled them bck to shiny newness. Today, I added all the lapis rounds to the coils, bent each coil and linked it with the next. Then I spent a frustrating couple of hours deciding what to do for the clasp. Now, I'm tired but finished: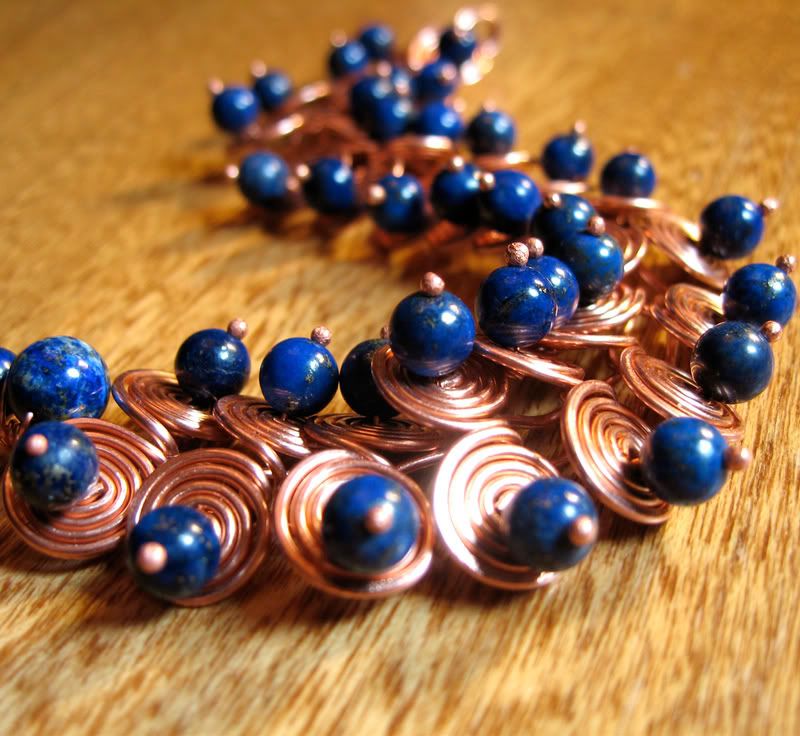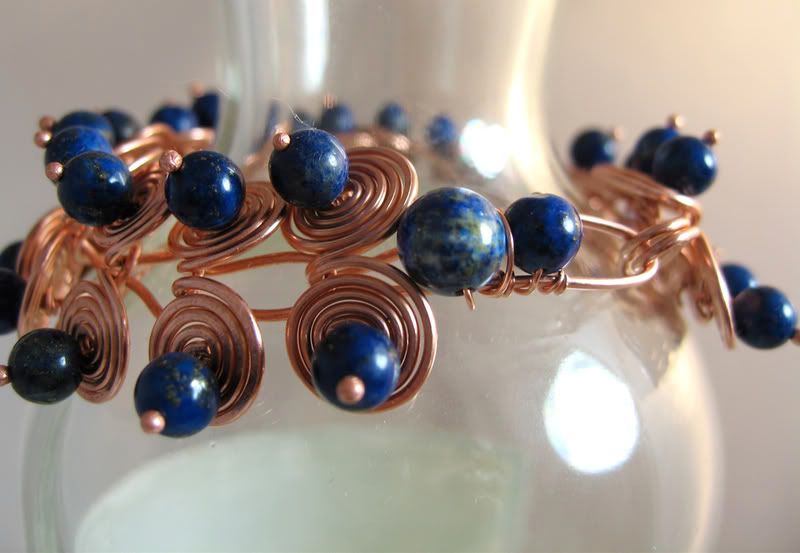 This is a heavy bracelet - there are 12 feet of 18 gauge copper wire making up these coils, plus the lapis - but it is surprisingly slinky on the wrist. It's 7 1/2 inches long, and I'm still deciding whether or not to list it in the Etsy store.