Last night I didn't feel like doing anything at all. No jewelry, nothing. But I had so much jewelry related stuff I want finished, I forced myself to work on it, anyway. I got a ton done. First, I made about two dozen earwires, one because I had an order for some, and two because I was about out of my stash for my own projects. Then I shaped, hammered and filed some ring shanks and bezels in preparation for soldering...which is about when I lost steam and wanted to just kick back on the couch in front of the TV.
But I've been wanting to make some more of those bead caps to have on hand, for making myself a version of that labradorite necklace, and a couple of other projects. So I spent a good hour (or more) making a bunch of those - and gave my thumb a nice metal cut in the process. *winces* (From now on, I'm putting tape across the pads of whatever digits I'm using on those bloody sharp little metal discs.) So, that done, I set about making earrings. I made four pair, two for the shop, and two really simple little ones as last minute gifts.
Hmm. That doesn't sound like a lot, does it? Well, all told that took me about four, four and a half hours. So...a lot, really.
Anyway, what GJP would be complete without pics? I must have been in an aquamarine and amethyst mood: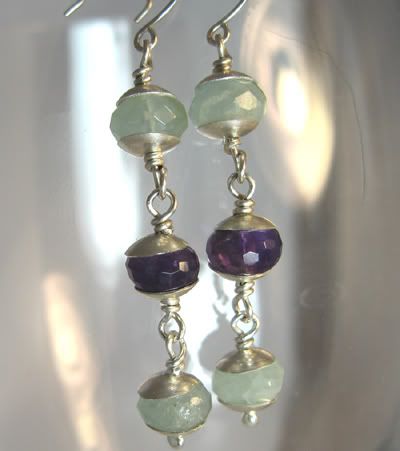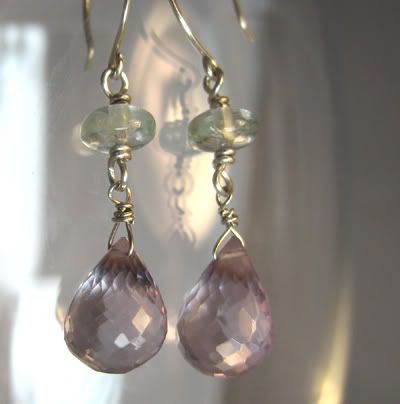 It's hard to decide which I like better, actually. I was pleased with how both pairs came out, and will probably end up making a pair similar to the first ones, with the aquamarine and amethyst rondelles, for myself...once I make some more of the smaller bead caps. I only made a few of those out of what I had left of my argentium sheet, after using most of it for larger caps. More pics and info at the usual place,
my Etsy store
.
Current Mood:
accomplished