And it's 8-8-08 today. I'm sure there's something significant in that.
I'm going to try writing that beginning to
Consort
again today. We'll see if it goes better the second time around. (Behave, MS Word!)
I'm having a bit of a quandary, because I keep wanting to begin with a very similar opening line to
Nemesis
(though the situation is vastly different, which is part of why it keeps calling to me - same series, almost the same opening line, WAAAAAY different circumstances.) Not the first line to the the prelude, mind, for those of you who have been beta readers for the first book. No, this would be "Mercy tasted blood..."
But no, no. It needs to be something different, even if it doesn't want to be. Right?
Hmm.
In jewelry related news, I'm working on a fairly big project that may or may not turn out, that may or may not waste a bunch of wire...for the second time. This is the second time I've tried something like this with the same exact stones and basic idea. The first I had to scrap, and let me tell you, that was painful. A LOT of silver, gone to waste.
In the meantime, more earrings: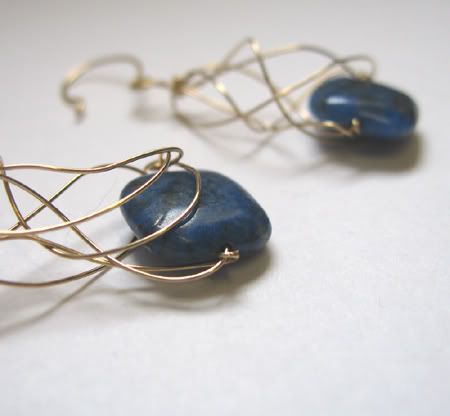 I sort of made these with the
Skies of Babylon pendant
in mind, but certainly they wouldn't have to go with it. More pics and info at
my store
.
And really, someday soon i'm going to get off this blue kick. Maybe.
Oh, and apparently
some script pages to the pilot of Dollhouse leaked
. Spoilers and such, but very interesting. Everything I hear makes me more excited for this show.
Current Mood:
cheerful