Okay f-list, you have all convinced me to go the extra mile and spend the extra money to make my costume fabulous. So. I've narrowed it down (I think) to two wigs. One I can get for about $50, the other for about $65. Which one, just from looking at the pics, do you like better?
And the same wig from the front:
And then the other option, pictured again: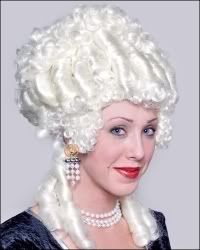 If it matters or helps in any way, my costume will feature a high lace collar around my neck. If I can figure a good way of shaping and stiffening the lace, that is.
ETA:
Edited to add, since people seem to be liking the second one better, it also comes in a honey blond color, which I COULD possibly use for other costumes (ie, dressing up like a doll, etc). Do you think the color is important? white being the traditional powdered wig look we all associate w/MA.
Current Mood:
curious