Good morning LJ!
I'm in a good mood today, because I'm feeling better/healthier than I was yesterday. Or all weekend, really. I haven't been super sick, but just sick enough...it's odd, actually. I've had this cold that has manifested as: scratchy throat, sinus headache, some stuffiness in sinuses, and "cotton head" feeling. For days, now. Then yesterday morning I woke up with a migraine (my own fault for choosing to sew for umpteen hours on Saturday) and that just seemed to make everything worse, even after the actual pain was gone. The kind of odd, floaty feeling my migraines often leave me with combined with the cold symptoms to give me dizzy spells! Not fun! Especially while driving. I went to the grocery store, then came home and basically laid around watching old
X-files
episodes and hand stitching some things.
Then, around 9:00pm last night, the dizzy spells and tired-sick feeling vanished. All of the sudden I was feeling okay and wide awake. Very, very strange. The cold appears to be hanging on my its teeth, but for the most part, I'm feeling much better.
In other news, I accomplished a lot on my costume this weekend. Specifically, on my bodice.
Here is the fabric I'm using for my Marie Antoinette-era ballgown:
The pink/silver patterned fabric will be my underskirt. I'm layering the lace on top of the solid pink fabric for my bodice and overskirt, with more of the lace for my sleeve flounces.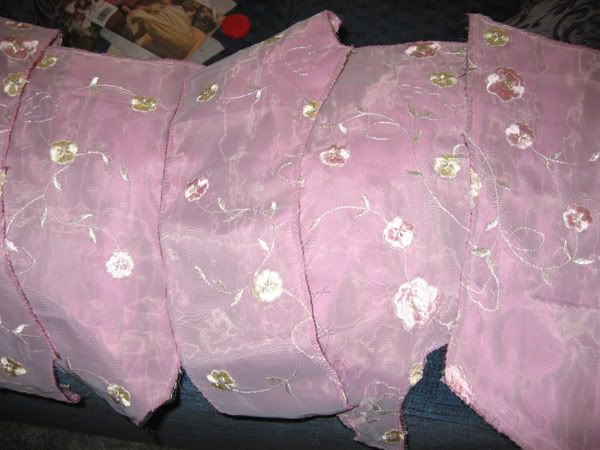 Here are my bodice pattern pieces, all layered and flat-sewn to twill and already boned, just waiting to be made into a bodice (finally!) I didn't take pictures of the boning layer and flat-sewing stages, because I already did that with my sister's corset,
here
and
here
. I will say this - that lace is so damn fragile, I not only zig-zag stitched every edge, I also fray blocked every edge before flat-sewing it to the satin and twill. Stuff better not come apart now.
And here is the front of the bodice sewn together. I mean, all the bodice pieces are together, but here is the front part. Note that that color in the first pics above is truer than the color in this picture. I still need to grommet it and add the sleeves, not to mention bind the edges and add the rest of the trim.
For reference, I'm using this Butterick pattern, but only sort of:
I say "sort of" because the pattern is, as is so often the case, really awful in a couple of ways. My list of alterations so far:
~ REAL boning in the corset. 20 pieces in all. I could have made myself some authentic stays instead, but I prefer to just bone the bodice.
~ The neckline on this thing was prudishly conservative. WTF, Butterick? I lowered mine some to fit more with era. I also had to lengthen the waist, because once again, even as short waisted as I am, this thing was freakishly short.
~ My sleeves are almost completely different. I added flounces in addition to the lace, which I shortened, and cut away part of the shoulder to have a peek-a-boo cut out between the shoulder strap and sleeve top. I'll add some decorative trim to highlight this.
~ The skirts...I'm not even using the skirt pattern from this. I'm making my own. They want you to make a gathered skirt. Well, this era used pleats, not gathers, and for that I need a lot more fabric than they suggest. Also, their overskirt is too short. Mine will be a full overskirt, pleated and decoratively bustled up on either side.
Once I finish the bodice completely, I'll be feeling a lot better about my overall progress. My wig came, but I won't try to do anything with it until my costume is finished.
Current Mood:
awake