I don't like having my pic taken. It's a thing I'm trying to get over. My friend L took these, and I was like "Geez, how many are you taking??" And she was all "About twenty, cause you'll only end up keeping maybe two of them. I know you."
She was mostly right. I only really kept three.
Now, it's only
mostly
done. The sleeves aren't attached, and I'm not done trimming them. My wig isn't done, either. But for the most part, my costume is finished.
Because
kistha
asked: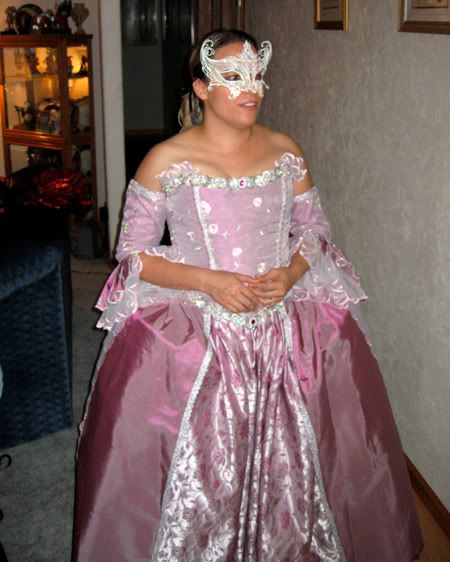 My frilly pleated sleeves are kind of covering the width of my
panniers
, but you still get the idea.
My sister is making me laugh. We actually just discovered our mututal guilty addiction to ANTM, and were laughing about Tyra's rampant CRAZY.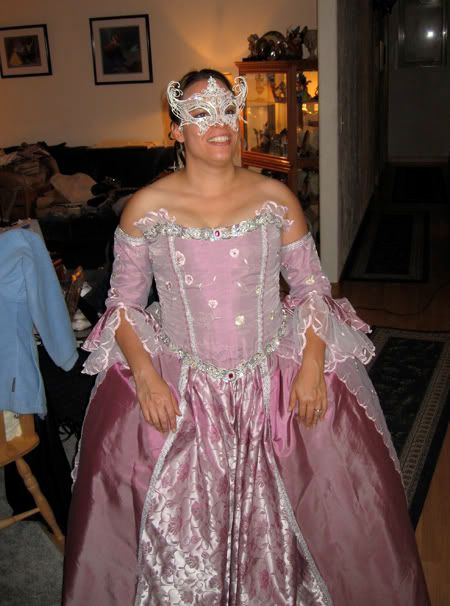 I am mostly including this one, because you can glimpse my disaster of a
sewing room
living room scattered behind me. Fabric and costume and pattern pieces, oh my! Also, we call this the "Disney room". It's where we hang all of our Disney prints and keep our curio cabinets.
Overall, I'm pretty pleased with my costume. Obviously, I'll post better pics when its really done and I'm in full wig/make up. My
panniers
turned out perfectly, and really give the costume that extra something. :-)
Current Mood:
pleased