I'll start off this gratuitous jewelry post with an update on the
Rainbow Drive
- we have officially raised over $100! Go
here to see the current total.
I'd love to raise twice what we have, and I still have the Rainbow Calsilica to do it. I know those interested have probably already pimped this, but if you've thought about it and haven't yet, please consider it. I'll keep this open as long as I have the calsilica to do it, or through the end of the week.
In other news, I did attend a gem show this weekend - and guess what? Not a single stone of Rainbow Calsilica to be found! This stuff is rumored to be so highly controlled by the people who own the mine in New Mexico, they won't even share the location of the mine! They have released pictures, to prove said mine's existence to naysayers, but the rarity of this stone makes these pendants and earrings all the more unique. :)
In the meantime, I did come away with all sorts of new shinies, and I'm starting to make and list multiple items to build up stock for Christmas shoppers. Beautiful handmade items can be an inexpensive way to fill out one's Christmas shopping, or so I'm hoping this year. We'll see, as the present shopping season is probably starting right about now. (I know, I can hardly believe it myself!)
And that's all I'm going to say on that, as I hate sounding like I'm trying to sell stuff on this journal. This journal's all about showing the pretties, not selling them. What with the Rainbow Drive and this, I feel like I've been doing a little too much "selling" lately as it is. There's a reason I don't work retail anymore. You know, beyond the crappy hours and pay and stuff. I loved working in a bookstore, actually, except for the corporate 'plus selling' requirement that made it feel like I was hounding people. That part, not so much.
Anyway, you all don't are about that. I said this was a GJP, and so it is. Here are the new pieces I made with new shinies last night:
A lapis pendant - the pictures turned out kind of dark, but this lapis is to die for! AA quality drops in substantial sizes. If you like lapis lazuli, this is some of the best I've ever seen. (My sister said she would've taken it all home with her, but she doesn't make jewelry, and thus wouldn't know what to do with it.)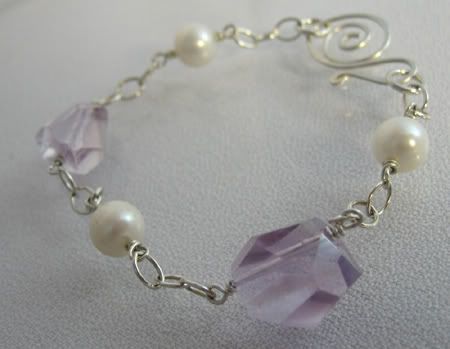 Pale lavender amethyst nuggets, eye clear with large, beautiful faceting, paired with A quality freshwater pearls. Very soft and feminine.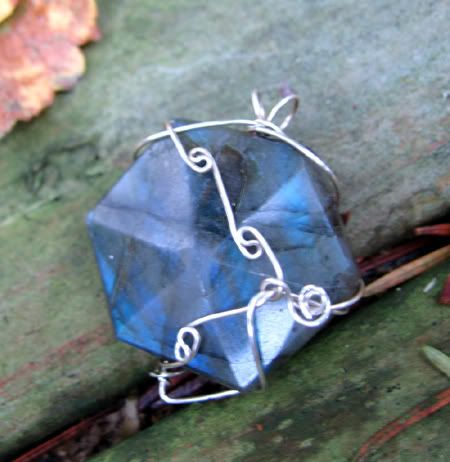 And this is among my FAVORITE finds ever! No one who reads this journal and follows my jewelry posts can be unaware of my
obsession with
attachment to labradorite. I LOVE labradorite. Most of what I bought this weeekend was some form of labradorite, and while I certainly love it all, this cut was so unusual, I wish I'd been able to get more of it. Great quality, flash lab in a cut I've never seen before. I couldn't resist. And of course, this was the first piece I made once I was home with all the new goodies. :D
More info and pics, at the same bat place,
my Etsy store
.
Current Mood:
creative