I get to leave work three hours early today! They don't always let us contractors take part in the Feds holiday time like that, but this time no one's told us no, so - yay!
And thank goodness, because my sore throat is about 300 times worse today. It's a sore throat that hurts when I swallow, and hurts all the way up to my tongue - isn't that weird? Owie. :( One side of my tongue hurts also whenever I swallow, or talk, or anything. Just in time for the Thanksgiving feast. *woe*
I know what I'm getting for Christmas, and it's a new sewing machine! Yes, I know it has
only been two years since I received my first sewing machine
, but see, I've done a LOT with that machine in two years. Everytime we have a costume event, it gets taken in for servicing after, because I've used it just that much. And this new machine is special.
The sewing machine I have, the one my Mom got me for Christmas in 2006 when I decided I wanted to learn to sew, is
awesome
and
great
and a
way better
sewing machine than i ever expected her to get me. It's a Pfaff 1142, the top model in their Hobby line, and while not a "true-made-in-Germany-with-a-Pfaff motor and Pfaff's famous IDT" (a special feed system that is essentially like having a walking foot permanently attached to your machine) model, it is still an excellent and very high quality machine. It's absolutely perfect for almost any home sewing hobbiest, as the name implies. But it's just a wee bit underpowered for the sort of projects i like to spend my time on. Namely, full corsets with ten layers of fabric + trim. (I thought it was pretty funny, when I was making Mark's
hakama
, there is a point where like eight layers of fabric are going through the machine, and the pattern cautions you to be really careful what kind of fabric you're using because most machines will choke on that many layers of something heavy. My Pfaff didn't even flinch.) It does, however, struggle with that last bit of corsetry. A problem I think would be completely solved by the more powerful motor and IDT feed of the next level up.
I love and adore my Pfaff 1142 passionately, to the point where it was difficult for me to even conceive of an upgrade, at first.
But then, you see, Pfaff did something unusual. They offered special coupons that you could print online, and that any Pfaff dealer would accept, and one of these coupons was for this machine: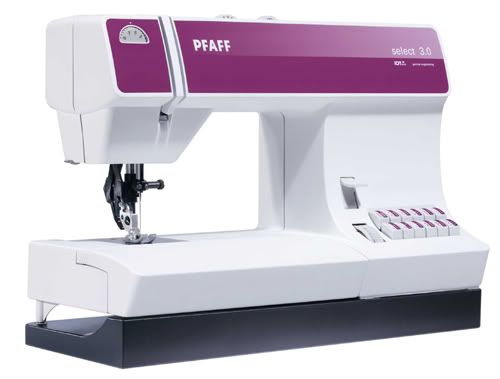 A Pfaff Select 3.0 - a "true" Pfaff, with the IDT, and a much more powerful motor than my Hobby 1142. It normally retails for $1000 - and it's the bottom rung for the really "real" Pfaff's. They only go up from there. But see, this coupon would let me get it for literally half off - $499. That's what my 1142 usually retails for. Now, I don't have $499 to just throw at a new sewing machine, but they offer layaway, and the guy who services our 1142's (mine and my friend L's) and loves Pfaff as much as we do, said he's never seen Pfaff do this EVER. And the coupon ends tomorrow. So I talked to my m-in-l, and she's going to give me some $ to put towards it for Christmas, and I'm putting the machine on layaway.
Making the type of costumes we do, and especially the corsets, I think the Select 3.0 will just have an easier time handling those projects than my beloved Hobby 1142. I'm so excited I can barely stand it! Of course, I won't actually GET the machine for Christmas. I probably won't be able to pay it off and bring it home until February, but hey, at least I'm getting it! The kind of sewing machine I never thought I could afford. :-)
Current Mood:
sick