Storm Glass, by Maria V. Snyder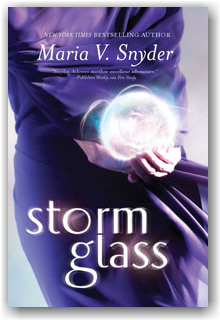 Are you a fan of YA fiction? Looking for something different from the vampires, werewolves, and/or fairies so prevalent in recent years? You should give the excellent YA fantasy
Storm Glass
a read.
Maria Snyder returns to the world of her popular Study series (
Poison Study, Magic Study, Fire Study
), weaving another tale of intrigue, power, and romance. (Note - If you haven't read the Study series yet, I heartily recommend them. It isn't necessary to do so before diving into
Storm Glass
, but they're great books set in a truly unique fantasy world, with characters you fall in love with.)
In this tale, we focus on Opal, a young girl with an amazing natural talent to work with glass. But Opal's not so good at magic. She struggles with it, where her fellow students at the Keep seem to excel. As a result, she's something of an outcast - too good at one thing, not good enough at everything else. I love this sort of coming-into-your-own story when it's done well, as
Storm Glass
is.
Lacking confidence in herself and her abilities, Opal needs to find it fast when Stormdancers start dying. It seems someone is sabotaging their orbs, which are shattering. Here, Opal's incredible gift with glass may be the only way they'll find the answer and stop it from happening. Opal is sent by her masters to investigate the deaths, and very quickly Opal's gift distinguishes her - unfortunately, it also makes her a target. The glassmakers who know the secret to crafting Stormdancer orbs are being murdered, and because of her ability, Opal may be next. She has to figure out what's actually happening to the globes, and who's responsible for killing glassmakers, before they end her life as well.
Meanwhile, she's caught romantically between two young men - Ulrick, the fellow glassmaker who loves her, and Kade, the dark and mysterious Stormdancer she is powerfully attracted to. I'm a sucker for a good romantic triangle (*cough* Kade! *cough*) The push-pull here worked for me, felt very real for Opal, and tied in well with the overall plot. I kept reading as much to find out what happened next with Opal, Ulrick and Kade, as I did to find out who was killing glassmakers and Stormdancers.
Snyder has solid worldbuilding, and her descriptions, particularly of the glassmaking and the unique role glass plays in her world, are absolutely beautiful. I'm a jewelry artist, and while I don't personally make glass, I have friends who do, and Snyder's imagery of this process is very real, and for me at least, evocative.
But ultimately, I'm all about the characters. Snyder's Opal reminds me of Menolly of the Harper Hall trilogy, or Talia of the Heralds of Valdemar. Like these others, Opal has to embrace who she is, and learn the true depths of her talent in order to save those she loves, and survive the plot she becomes embroiled in. An enthralling good read, and a nice break from the usual YA fare. It's tough to find YA fantasy these days - urban fantasy, sure, but I'm talking good, old fashioned otherworld fantasy.
Storm Glass
is one of the best books I've read lately, YA or adult, and that's saying something from someone who reads as much as I do. A solid and fulfilling read, I give it 4 1/2 - 5 stars. I think teens will enjoy it, and if I were still working in a bookstore, I'd be handing it to anyone looking for something to read in that genre. I can't wait to read the sequel in September!
Storm Glass
comes out on Tuesday, April 28th. You can
pre-order from Amazon
, or look for it at your local bookstore a week from today.
Current Mood:
working