I feel like I got run over by a bus, and I only had one beer last night. No, I'm sure it's the twelve or so hours of sewing yesterday that are responsible for my headache and tired eyes. I woke up at six yesterday morning and couldn't get back to sleep. So I got up, and thought "These jeans I can't wear anymore because of the holes in them - what a shame to throw them away. I should cut them up and make a corset out of them, so I have one that will always go with jeans." And so I did.
Instead of doing it in stages, like any normal, intelligent person would do, I cut and sewed until it was done, only stopping to eat once. The stupidity! I know those sewing jags give me terrible headaches! But. The corset/bodice did turn out super cute!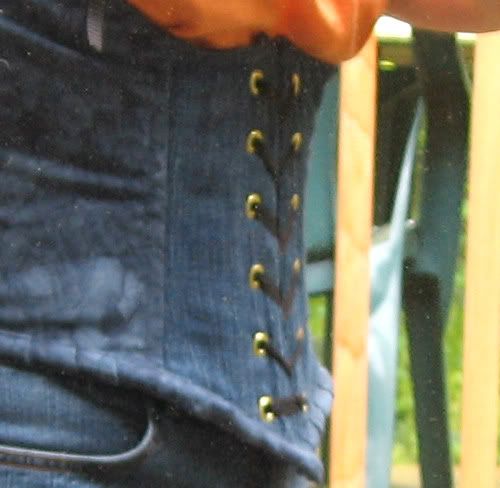 I may add some decorative buttons, but we'll see. I wore it out last night with some of my copper jewelry, and the two went really well together.
Speaking of jewelry, the free shipping Mother's Day sale at
my Etsy store
is only good until midnight tonight. Well, I'll probably let it go until tomorrow morning. :)
Current Mood:
tired