Okay, so I totally made that up just now. But it's a bullet list for me today:
~ Last night was a TV wasteland! I miss
Chuck
already. :( Hmm, maybe now it's time to catch up on some shows I let fall to the wayside.
~ We're having a Cinco de Mayo potluck at work today, which I totally spaced and didn't bring anything for. So, do I go and mooch off of everyone else, or stay in my office and pretend I totally forgot? Decisions, decisions.
~ Yesterday I got an order of labradorite cabochons in, and they are AMAZING. However, they are also bigger than I was expecting, and one, at least, I'm not sure what to do with because it is so very LARGE. It is also, however, beautiful. If I can figure out how to set the dang thing, someone who loves big, bold jewelry will no doubt love it. In the meantime, I played with setting one of the smaller ones, and that was an exercise in frustration that nearly cost me a whole lot of expensive silver, however I managed to pull it off in the end, and I think I may have accidentally discovered one of my "signature" looks in the meantime. This "poppy petal" setting could look really great for rings, earrings, pendants...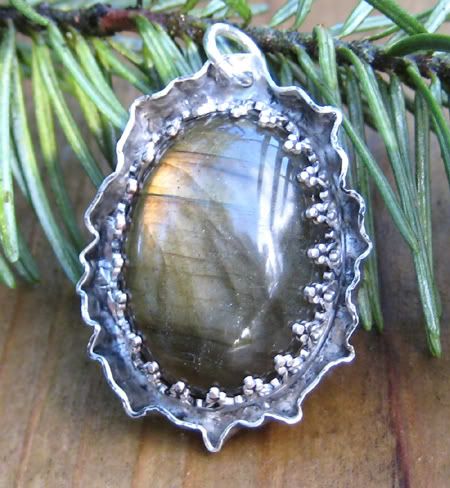 Beautiful gold flash on this one, and it's a large 22mm (wait until you see the 40!) More info, etc at
ye olde Etsy shoppe
.
I also significantly marked down the
Burning Sky pendant
, just FYI.
~ I put a pork loin in the crockpot this morning. I dumped a bottled apricot sauce over it in the height of laziness, so I hope it turns out!
~ Writing, writing, writing. I am going to finish this revision by the end of May. It is my personal vow to myself.
~
Star Trek
this weekend! I am SOOOOOOOOOOOOOOOOOOOO excited. I wonder if I should buy tickets early? They've got to be on sale already, right? How lucky am I that my mother (who is responsible for addicting me to Star Trek while I was still in diapers) wants to see the new movie for Mother's Day? Pretty damn lucky! Mother's Day gift + movie I most want to see all wrapped up in one economical package! Hee.
~ OMG I SO HATE MY WORK MOUSE! It just takes off randomly across the screen like ALL THE TIME. I am tempted to go to Staples and buy one just to have something decent.
Current Mood:
working