I've been busy!
(Side note- I'm determined not to click on any of y'all's SPN posts this morning, until I've seen the episode. But I get the impression Bad Things happened. I confess to being very worried.)
(Side note
#2
- I am NOT seeing Star Trek tonight, because my mother has requested to see it tomorrow for Mother's Day. Since she addicted me to Trek geekdom forevermore when I was still in diapers, the woman gets what she wants. Even if I have to wait a day to see it. *drums fingers* But it's very hard, f-list. Very hard, indeed.)
I did
lots
of soldering last night, to the unfortunate point where I hurt myself, because now all my neck muscles are totally tight and I have this residual headache. But the results are worth it! Mostly.
So, this piece, although sweet, didn't turn out quite like I planned. There's a flaw in the bezel in the upper right hand corner. You can see it best in the second picture.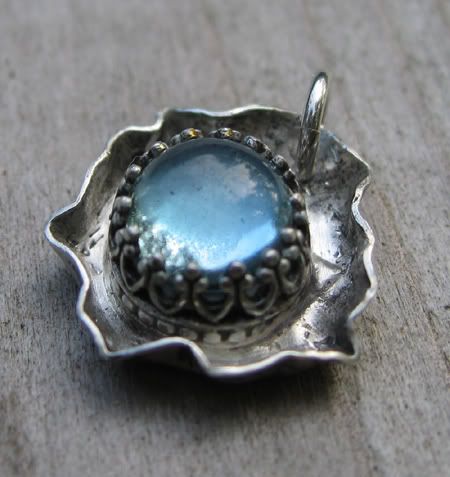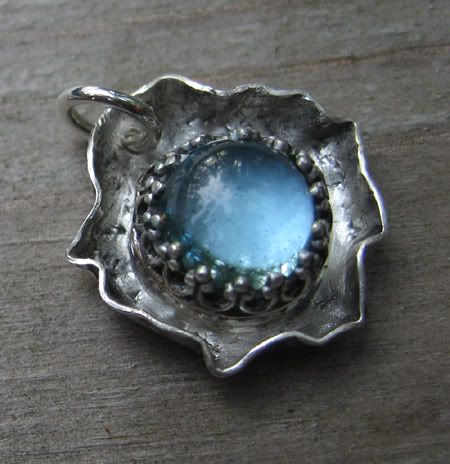 That Swiss Blue Topaz shines like
whoa
when it's worn. But the flaw bothers me, so I'm offering it at a significantly discounted price in the Etsy store - and when it's gone, it's gone. To give you an idea of what I mean when I say "significant", the topaz cab alone cost me $13. Add the price of the silver to that, and whoever purchases this one will basically be buying it at my cost.
The next piece, although quite similar, turned out with no flaws. The labradorite stone, however, is considerably less expensive than the topaz above, so although this piece is priced normally, the price is not much more than the first pendant. Sweet, charming, I really love these little pendants. I need to acquire more 8mm cabs to make more of them.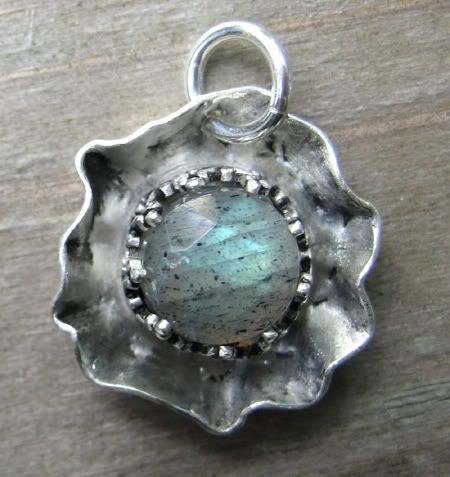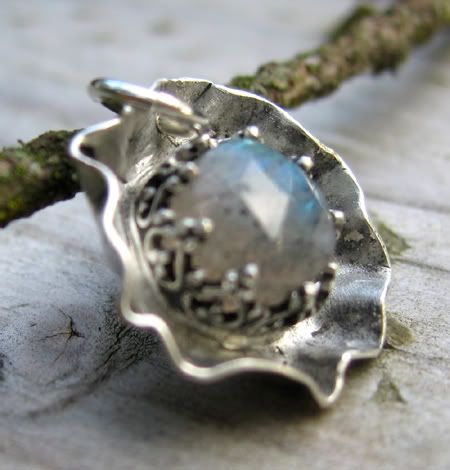 These are both smaller than a quarter, btw.
The next piece, however, isn't, and it's my favorite of the three. It's - guess what? - another fiery labradorite! A 30mm x 10mm stone.
The way the rippling turned out, and the gorgeous, deep orange flash on the stone really make me think "autumn leaves" with this one. But this lab also has greens and blues, too. Just a beautiful cabochon all around.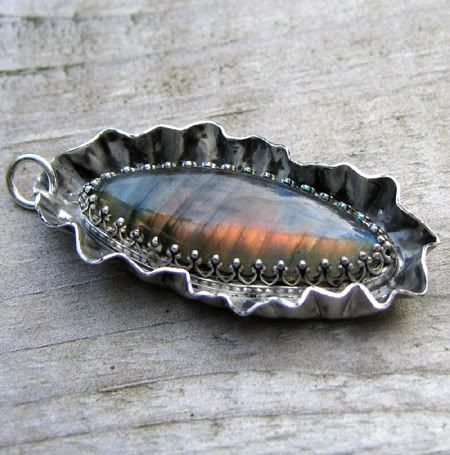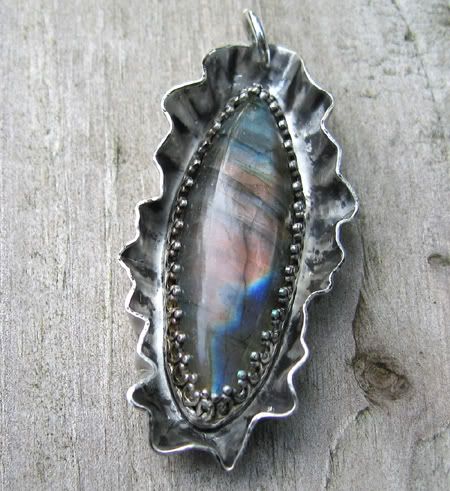 More pictures and info at
the Etsy store
!
(Side note
#3
- if any of you would like to see some stones other than labradorite *cough*, what would you be interested in, either stone or color-wise? I need to be shopping for some new cabochons.)
Current Mood:
creative