I cleaned out my closet this weekend, and I'm going to be clearing out some of my costuming stuff at below cost of materials prices. I only have so much room, and I've got waaaaay too much fabric stashed away not to be making myself some new things.
So. These are "used" in the sense that I've worn them at least twice for Ren Faires, or parades. They're also things I made early on in my sewing career, so while I was attempting things like corsetry at the time, I didn't have my serger yet, and I didn't know all the little things I do now. I'll write a little blurb about each outfit, so you know what the flaws as I see them are. :)
First is the very first Ren dress I made myself. It's made from embroidered and solid taffeta, with an overlay of embroidered chiffon. With an included modesty panel for the front lacing, it should fit from a sz 10-14. I'm a 10-12, and I was a 12 at the time of the pictures. It has an underskirt, and overskirt with attached fully boned bodice (with flat and spring steel bones). I made this like you would a real corset, so it really does pull in and support.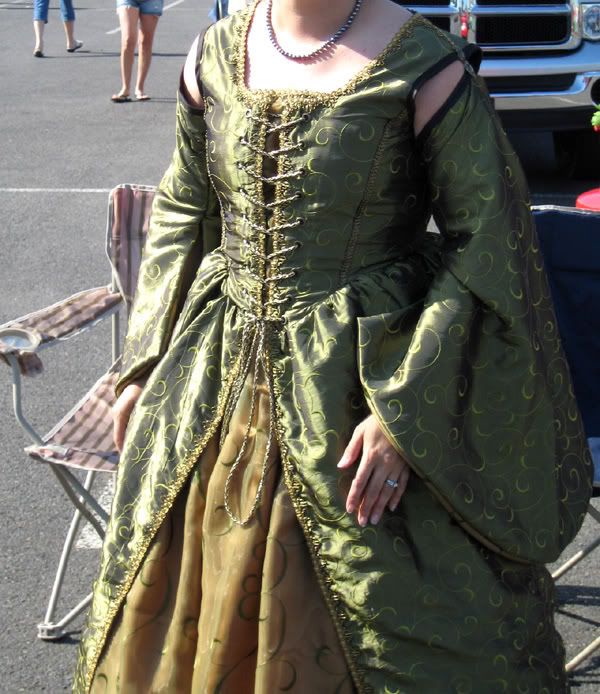 It features detachable sleeves, and with the modesty panel, does not require an undershirt. I'm wearing a crinoline with it, like the kind often worn with wedding gowns, which is NOT included.
But you can find one for a good deal on ebay
, and it isn't required to wear the gown, although proper underthings really add a lot to any costume.
flaws: I didn't know what a placket was for on skirts yet, and I didn't use one when I may the underskirt. As a result, the back slit isn't quite as neat as I would like, but no one sees that anyway with the overdress on. I ran out of the bias tape I was using to finish the sleeve and shoulder edges at the last minute, and had to switch to a slightly shinier black ribbon for one of the sleeves in order to finish the dress, but no one has ever commented - if you don't tell anyone it's there, they won't notice. Seriously, the overall affect of this dress on, is gasps over how beautiful it is.
Although I didn't yet own a serger, all the edges are ziggzagged with my sewing machine, which finishes them and keeps them from unraveling. The boning is flat and spring steel, not plastic ridgeline from the fabric store. There are over 8 yards of taffeta in this dress, and another yard of the chiffon. That's about $65 of fabric, with an additional $25 or so in trim. When you include the boning, grommets, thread, and other notions, the materials for this dress cost easily over $100 - I'm offering it for $80, with free shipping.
At any Ren Faire, this would a noblewoman's gown, and if you've gone to Faire and priced garb, you know how expensive buying an outfit like this would be (probably in the $300 range - materials plus the seamstress's skill and time.) $80 MIGHT get you a basic peasant's costume - chemise, skirts, bodice - but even that would be a lucky find. So if you know anyone who wants a new Ren dress in the sz 10-14 range, point them this way!
Next is my regency day dress. I made this more recently, so all of the edges are serged. Approximately seven yards of cotton/cotton sateen. It laces up the back with grommets, and should fit a size 10-14 or so.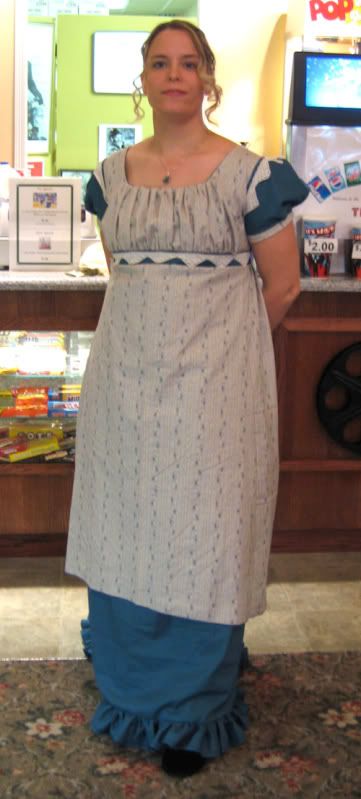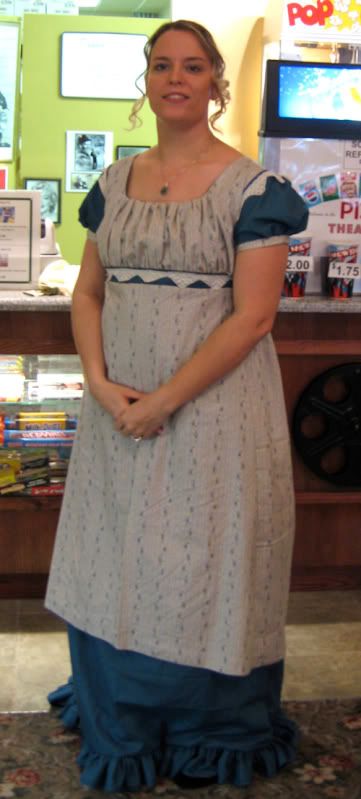 This one was only worn once. It features a gathered bodice, and a fun and flirty ruffle on the hem. Materials into it, around $60 - I'm offering it for $35 shipped. For Jane Austen fans, there are lots and lots of regency events out there, hosted by groups like the Jane Austen Society and local Regency societies. Picnics, teas, and many other things. This would be the perfect daydress for joining in. :-)
Current Mood:
calm