I'm making myself new pirate garb, and to that end I spent part of my weekend tea
dying
dyeing some fabric.
See, I got this wonderful bamboo fabric on clearance awhile back. Yep, bamboo. All of the "green" people want to get behind it because it's supposedly much "greener" than cotton, as an easily accessible, all natural renewable resource.
Except it's not. As with nearly all fabric, the actual process of making fabric from bamboo requires the use of some pretty harsh chemicals. So, not as "green" as you think.
However, certainly no worse than cotton! Bamboo poplin (at least this stuff) looks like a high quality cotton, but feels much softer, and I got a bit over 3 yards of it for $2/yard (it started life as $13/yard fabric). Not bad!
Bamboo also has some really interesting qualities that I like quite a bit:
~ It is naturally very absorbent, and so wicks water away from the skin about five times better than cotton, which will be really handy on those hot festival days!
~ Natural, lightweight, and breathable!
~ machine washable, just like cotton.
~ seems to be more durable than cotton, but not quite as strong as silk, so an in-between fabric choice.
~ has anti-bacterial properties, so it will naturally not pick up body odors as easily as other fabrics.
~ is super soft - it has a naturally round fiber, so no roughness to catch at your skin.
~ naturally insulating, so your cooler in the summer and warmer in the winter.
Sounds like pretty much the PERFECT shirt or chemise fabric to me! And I have just enough to make myself one. Except it's white, and me and white don't get along so well. I was pretty disappointed at having to either resign myself to white, or not use the fabric for my new pirate shirt.
And then I hit upon a brilliant plan. Tea! I would dye the poplin with tea, and this have a just-darker-than-white pirate shirt! Appropriately antiqued! Awesome. :) I've never dyed fabric with tea before, but it was really easy. Having a utility sink next to the washer and dryer was very helpful!
Here are the before and after pics:
Before, very white against my white washing machine.
And after, slightly no longer white against the white washing machine - perfect!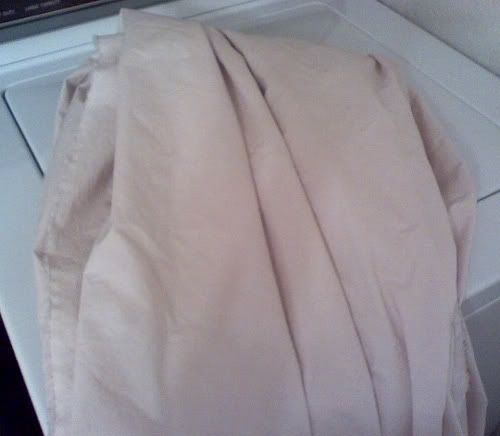 And as an added bonus, tea dyeing is a long standing practice that makes this more period than, say, a commercial dye. :)
Current Mood:
accomplished