Well, my dupioni silk skirt is finished. It took me 5-6 hours, from cutting the pattern to finishing the hem. 90% sewn on my serger. No idea how long it would take with just a sewing machine. I used this pattern, McCalls 5056: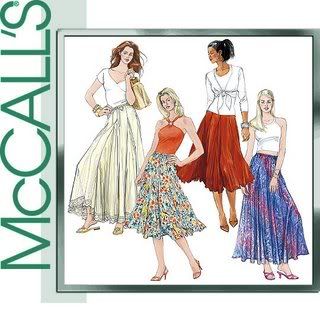 I'm actually wearing it today, with a cute ruffled black top. Sure, I made it to be my pirate skirt, but it's a versatile style and look. Dress it up to go out, dress it down (as I did today) for office wear, or wear it with boots and a bodice for pirate fest! :D Forgive the crappy cell phone pics: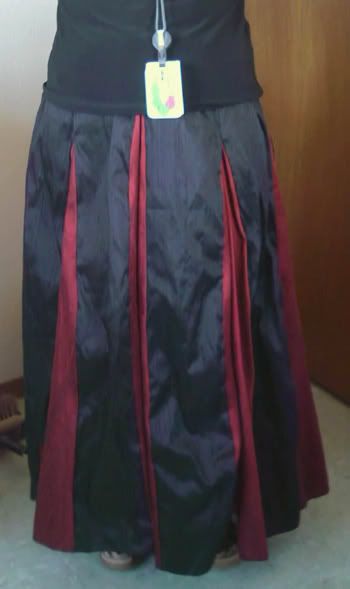 The skirt actually looks better when you're moving, as the black and red move and flow with you, and change how much of either color shows. Overall, I love it. The silk is super lightweight, but the look and drape of the fabric makes it seem heavier to the eye. I guess you could line it if you really wanted to, but why? To me, that would take away from the way the skirt lays, and how light it is on. This stuff would bustle great for a period dress, and it convinces me more than ever to use it for my next Ren gown.
A pretty simple pattern, I'd recommend it. Although sewing the godets (the triangles of red) was kind of a pain, I think I have the hang of it after doing eight of them. This skirt has about four and a half yards of fabric in it, but it's slim at the waist, and flares out as the godets are added. A drawstring waist makes for a simple closure. (I added a waistband, because I hate the "fold over" method of doing a drawstring.)
I think this would be really, really pretty in a soft, flowy fabric, with maybe some flowered panels for the godets, and a solid color for the rest.
As a last note, this skirt cost me approximately $65 in materials to make, including the pattern and thread. I can only imagine that in a store, it would be around $200 at regular price. 100% silk still commands a high price. See? Sometimes sewing can still be cheaper!
Current Mood:
accomplished