I had this great post all written up. Windows hiccuped and ate it.
Now it'll just have to be an abbreviated version:
My new Le'lit is fantastic, I really can't recommend it enough, especially for the price. Also, shiny: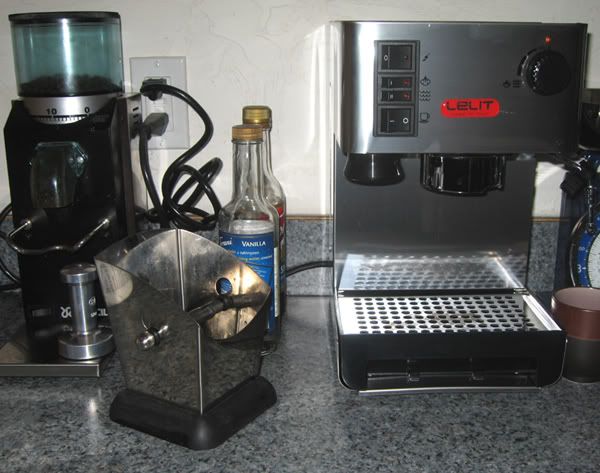 Clive Coffee did a great job shipping it
, and even threw in a free pound of their freshly roasted espresso blend. Very nice experience. It's more substantial feeling than my Barista, and as nice a job as the little Barista did, the Le'lit seems to produce better shots more consistently, right from the get go. Really the best value for the money for an entry level machine.
But, the primary reason for my coffee post today was not my new Le'lit, but this: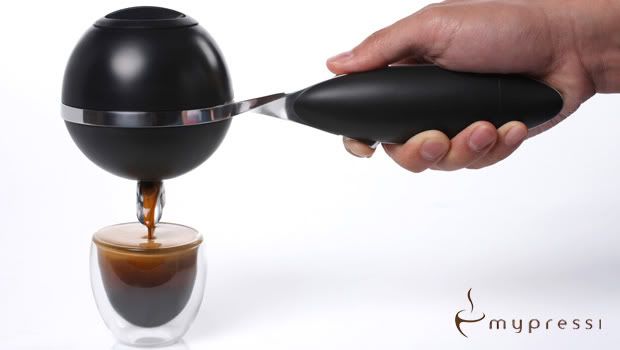 It's the TWIST, by a company called
mypressi
. It's exactly what it looks like - a portable, individual espresso experience, about the size of a portafilter. The SCAA rated it the best new coffee product of 2009, and it looks to me like a breakthrough design. Using the same gas cartridges you buy for that gourmet whipped cream dispenser, it takes freshly ground coffee and hot water, and applies a perfect 9 bars of pressure to produce the perfect shot of espresso, anytime, anywhere:
Just look at that shot! Mmmmmm. It's releasing next month, and you can pre-order it from mypressi for $169. Or, Stephen from mypressi was kind enough to tell me, you can
pre-order it from amazon for twenty dollars less
. How's that for customer service?
Each cartridge is good for up to 8 single shots, or 4 double. Get one of these, one of the
hand grinders
I talked about in my last coffee adventures post, some freshly roasted coffee and an
inexpensive milk frother
, and you have the most affordable, really good home espresso deal available today. Or office, or travel.
Current Mood:
awake