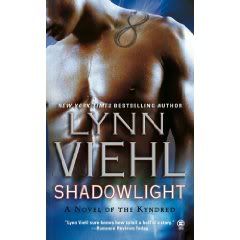 Shadowlight
Lynn Viehl
Pre-Order through Amazon
or your local bookstore of choice.
Back cover blurb:
With a single touch, Jessa Bellamy can see anyone's darkest secrets. She's tried to hide her psychic ability from everyone, but a biotech company called GenHance has discovered her talent, and intends to take her, kill her and harvest her priceless DNA to sell it to the highest bidder.

A mysterious photographer named Gaven Matthias is also interested in Jessa; he's been trying to find her for months. When GenHance makes their move, Gaven has no choice but to kidnap Jessa himself so he can protect her and convince her to join him in helping protect others like her. Jessa discovers that she can't see any of Gaven's secrets, so she doesn't know if he's telling the truth, but as a monstrous assassin created by GenHance's experiments closes in on them, she must decide if the strong attraction they share is proof enough that Gaven is her greatest ally — or is a smokescreen hiding a terrible secret.
When author Lynn Viehl announced that
Stay the Night
would be the final book in her popular paranormal romance series, the Darkyn, I won't lie - I was disappointed and unhappy. I loved the series and really wanted to see it continue - it seemed to me there was plenty of room for more stories involving the immortal vampires, the Darkyn, and their something-more-than human lovers, which we've come to learn are often Kyndred, people with special abilities, like Jessa, whose powers are related to the creation of the Darkyn. (I won't say more about the how and why of that, and I'll just tell you that if you haven't yet read the Darkyn books, go pick up the first in the series,
If Angels Burn
, and start. You'll find all the answers I'm not saying in that series, which is a very unique and refreshing take on the paranormal romance 'vampire' sub-genre.)
But as it turns out, Lynn ended the Darkyn series, but only to pick up a spin off series focusing more on the Kyndred (or Takyn). But don't be fooled. The Darkyn are still there. In fact, some of my absolute favorites make an appearance in Shadowlight. (More on that later.)
I'm seeing an awful lot of reviews from people who have never read Lynn's work before. People picking up
Shadowlight
, devouring it, and saying "how am I just discovering this author??" Answer: I don't know, but I'm glad you've found her! The more people who read and buy her books, the more contracts she gets to write more! I've been following Lynn's writing since I discovered
Stardoc
, an SF series she writes under the name S. L. Viehl. (I recommend them, too. Just be warned they are definitely SF, though not without their own romantic elements.)
But let's talk about
Shadowlight.
I'll be honest; I loved her Darkyn series, and I went into this new series fully expecting to love it to pieces. I wasn't wrong.
It starts off with a character who isn't mentioned on the cover blurb: Min, a young woman with the ability to see happy glimpses of the future. She's mourning the death of her adoptive father, and starting a future at a new job, and also with the love of her life, a young man she knew she was fated to love from the moment she met him (with that gift of hers.) Unfortunately, tragedy strikes.
From there, the story picks up with Jessa - a young woman who has the unique gift to touch people and see, not happy things, but the dark things they want to hide. She calls this stepping into
shadowlight
. You might see some parallels between Min and Jessa, and there are reasons for that. They are part of the Takyn, a secretive organization of people who have found commonalities together - people with special gifts, who were adopted at a young age, and are now hunted by people like GenHance who want to take their gifts and DNA to make super soldiers.
Those who have read the Darkyn books will recognize the backgrounds of people like Min, Jessa, and the other Takyn. We already know that these special people are related to the Darkyn, and that they have enemies. But the Takyn know they're hunted, too, and they take huge precautions to protect one another and avoid detection. But Jessa can't ignore the terrible things she sometimes sees, and so she reports them anonymously to the FBI, a routine that has earned her GenHance's attention, as well as that of the mysterious Gaven Matthias.
Matthias is a sexy enigma, a gorgeous man with a mysterious past, and he's determined to save Jessa from capture by GenHance. To this end, he saves her life and kidnaps her at the same time. But GenHance isn't about to give up, and they send a man-turned-monster after them, a real world test of their super soldier serum. Jessa doesn't trust Matthias, or his motives, but neither can she deny the fact that she's attracted to him, and he's wanted her from nearly the first moment he sees her. But the monster on their trail doesn't leave them a lot of down time to either develop trust, or explore their attraction.
In the midst of their story, we also get to see two of my favorite characters from the Darkyn series, the assassin Lucan and his cop heroine, Samantha. Their story interweaves around Jessa and Matthias's, and it's interesting watching them parallel, and then finally intersect, peripherally. Also, Lucan and Samantha aren't just a stagnant glimpse; we get to see their relationship progress. It should be engaging for both old readers, and new.
I found this book to be a lot like
If Angels Burn
- a very solid set up to a new series, with good worldbuilding and engaging characters, many of them side characters we'll be seeing in future books. (Matthias's assistant - Sidekick? Personal chef? - Rowan almost leaps off the page, she's so vividly drawn.) But it probably won't be my
favorite
book in the new series. There's almost too much going on, too much being introduced. But it has to in order to really do its job as book one - and it works quite well overall. I enjoyed it so much I literally inhaled it over a period of about a day and a half. I can't tell you how excited I am for the
next
book (Rowan's, as it turns out). Maybe if we're very lucky, we'll get to see glimpses of all our favorite Darkyn couples in future books. I certainly won't cry if we see Lucan and Samantha a few times more. :)
And if this series follows the pattern of the last, we'll be seeing Jessa and Matthias's relationship unfold and grow over the next several books in the series, something I look forward to a lot. That's one of the things I love about Lynn's books - characters don't disappear just because their "story" is done, and their stories aren't really
over
- they evolve. They grow as people and as couples, and it gives them an edge of realism that can sometimes be missing in romance. It's part of what assures these books have a place among my "most waited for". :D
Shadowlight
releases October 6th. If you're intrigued, and you just can't wait, I highly recommend picking up her other series and giving it a read. :D
Current Mood:
awake