I'm journeying into new jewelry territory, specifically, setting faceted stones.
There is definitely a learning curve.
So far, I've done two pieces. The end results, while pretty, are flawed, and thus, not suitable for listing in the Etsy shop. Instead, I'm offering them on a first come, first serve basis here, as practice pieces. Basically, I'll sell them for my cost, which will help absorb some of the material costs to doing however many of these practice pieces I'll need.
This morning, I have two rings. The first is a gorgeous, lab created blue sapphire. "Lab created" is
not
"fake". This is a real sapphire, but instead of being mined, it was created, as the name implies, in a lab. Lab created stones have some advantages over those mined in nature. They are flawless, perfectly colored, they lack any of the possible moral issues some mined stones come with (particularly diamonds, though that isn't the stone we're talking about here), and they're less expensive.
So, 6mm, gorgeous blue sapphire, set in sterling silver, which is then oxidized and polished to bring out the pretty pattern. The flaws in this case:
~ the ring shank is not perfectly centered on the tube setting, ie, the part that holds the stone sits slightly too far to one side of the band. You actually cannot tell this when the ring is worn.
~ when I was setting the stone, my bezel pusher slipped in my hand (darned tiny settings!), and there is a teeny tiny groove in the bezel around the stone. You can see it in the upper left on the first picture, here:
This ring is sized slightly under 6 and a half. It should fit size 6, or 6 1/2 fingers. I'm offering it for the rock bottom price of $40, +$2 shipping.
Second is slightly more expensive, because the stone is more expensive. A 5mm hessonite garnet (orange), just the sweetest, most sparkly little thing.
Flaws:
~ I didn't add a back to the setting (a lot of jewelers don't, and I made the mistake of thinking it unnecessary because of this.) My solder, in consequence, ended up filling in part of the pattern on the ring shank on one side, making it less defined than the rest of the band.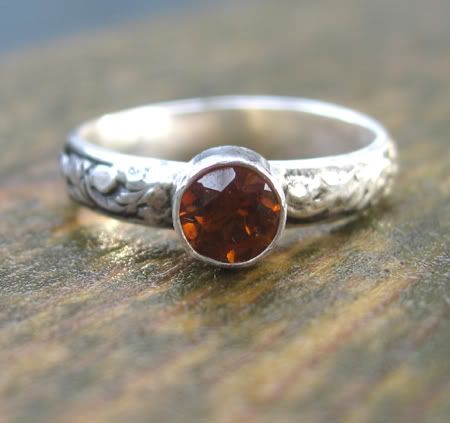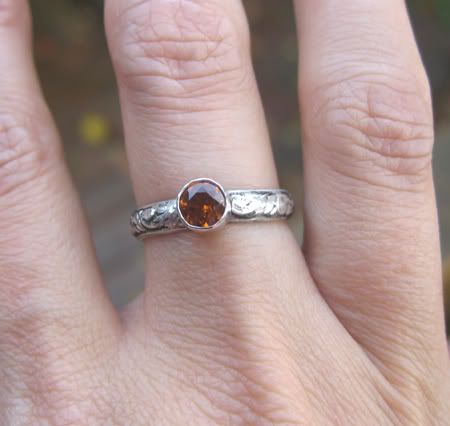 Still a beautiful little ring, and I love the fiery look of hessonite garnet.
This ring should also fit between and 6 and 6 1/2 sized finger.
I'm offering it for $50 + $2 shipping.
Current Mood:
cold