I mentioned awhile ago, I'd be organizing a Christmas shopping sale for
my Etsy store
, and this is the official announcement with the details.
Next week, for the week of Thanksgiving only, I'll be offering an unprecendented 30% off marked prices on
everything
in my store,
including
already marked sale and clearance items. Starting Sunday, November 22, and running through Saturday, November 28th, just make a purchase as normal, but
wait to pay with paypal until I send you an adjusted invoice
, taking into account the 30% off.
In addition to that, I'll be holding a drawing for a custom made piece by me, featuring an absolutely gorgeous rainbow moonstone cabochon: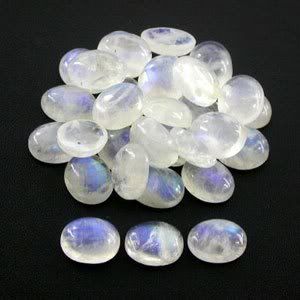 Beautiful blue flash, a generous 14x10mm size, and hand forged into either a pendant or a ring, winner's choice. Keep it, give it as a Christmas gift, or do your Christmas shopping in the store, and keep the moonstone piece for you (if you're the winner...)
Entries into the drawing are as follows:
~ mention my sale on your journal, and recieve an entry - see? No purchase necessary! The trick - you need to provide a link to my Etsy store, and then comment here linking me back to your post, so I know to enter you.
~ Spend $20 or less (not including shipping) and receive two entries into the drawing. For every $20 increment above that, receive two entries. So, for example:
Jane Smith buys a pair of earrings for $15 - she receives two entries into the hat. She mentions my sale on her journal and links me to the post - receiving another entry, for a total of three.
Bob spends $60 in the store (I will round up for things like $59, btw). He receives
six entries
into the hat. These numbers are, of course, after the 30% off is applied, so keep that in mind.
The custom pendant or ring will probably be similar to, but not exactly like
this
or
one of these
. And if you win, but rainbow moonstone just doesn't float your boat, I can negotiate that. But I'd prefer to keep it to another cabochon of similar size and cost.
I'll be holding the drawing on Sunday, November 29th, and announcing the winner on Monday the 30th.
All the items listed in the store are ready to ship, and can be custom gift wrapped and shipped directly to the intended recipient, if you prefer. Don't wait until the end of the week to buy that perfect Christmas gift, when an item might be gone! For reasons of fairness, I won't be "holding" items for people during the course of the sale. Only readers of this journal are getting the heads up that it's happening, and when, and all the details, so you'll already have a jump on everyone else, come Sunday morning. :D
Current Mood:
excited