Happy Thanksgiving late! Hope everyone had a fantastic holiday and stuffed themselves silly. Mine was pretty low key, with excellent food.
The Dickens dress is pretty much finished. All but the corset for it. I had to wear my black underbust corset, instead, as I just didn't want to kill myself getting the other one done. I'll have it finished before we go caroling (and oh, god, that is so going to suck! Our group does not sound, um, good. That's what happens when you don't practice!!) Anyway, they did wear underbust corsets over their skirts in the 1860's. They called them corselets, so it's still "period", just not as cool looking as the corset I have half finished.
I wish I was more photogenetic, or at least could hate pictures of myself less. Look at the costumes, not at me!
Me and my friend L:
Side view, with my cute little gloves in the pic: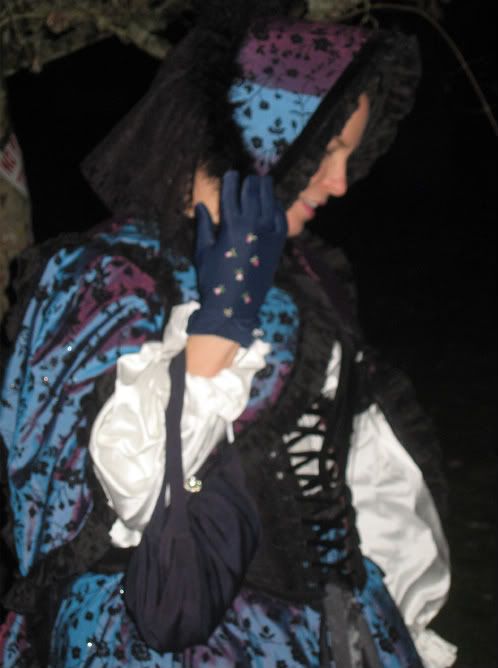 Another side view, shown because in this one, you can actually see how the fabric changes between purple and blue in certain lighting:
Pretty nifty, huh?
As a last note before I run off, don't forget, today and tomorrow are the last days of my 30% off sale for
my Etsy store's entire stock
! I already have seven names in the hat for the drawing to win a custom piece made by me. Those are pretty good odds!
Current Mood:
awake