It was a fun and busy weekend. We had friends staying with us (yay!) who very graciously indulged my bread baking experiments (of course, they also got sent home with bread!) Friday night we pretty much just stayed up late talking.
Saturday, I woke up early to go and do my Dream Dinners thing. And now that I've done it once, I have more to report!
So, here is what Dream Dinners is:
~ Good food, in measured portions, with all of the prep work done either for you, or by you, in about an hour. Enough for a minimum of three meals a week for a month, for less than it would cost you to go out, even to fast food, and slightly more than it would cost you to go to the grocery store. (But by my calculations, not much!)
When you walk into Dream Dinners, you're greeted with helpers who are eager to help you get in, and get out and back to your busy life. You have to put your order in ahead of time, and here is what I ordered:
~ Asian pork loin (6 servings)
~ BBQ Beef Ribs (6 servings)
~ Classic Pub Style Chicken w/mashed potatoes (6 servings)
~ Sesame ginger salmon (3 servings)
~ Citrus marinated flank steak (6 servings)
~ Crispy (NOT deep fired!!) Shrimp over polenta (3 servings)
~ Mediterranean Cod (3 servings)
~ Orangey Asian Chicken (3 servings)
I also got a free Raspberry Chicken portion (3 servings)
My method for deciding whether to get 3 or 6 servings was pretty much "Will Mark eat it? 6 servings it is!"
So, all of that was a grand total of $169. With our friends, we had the Asian Pork Loin last night, and I can tell you there was enough for four people, plus a little left over for lunches today. So I would say that 3 servings is perfect for 2 people, w/a little planned leftover. That means that for my $169, I got 13 dinners, not including leftovers that will probably equal at least an equal number of lunches. I think they say the average cost per portion is $3-6. The way this works out, Mark and I can eat one of these dinners and lunch the next day for approximately $13 total. That is about what we would spend on one lousy meal-to-go from McDonalds these days.
Now, you do usually need to think about your own sides. But how hard or expensive is it to throw a baked potato in the microwave/oven? Or open a package of rice and cook it? Or cut up a nice salad? Not very. And sometimes, as w/the Pub style chicken above, they include a side like mashed potatoes. You can also order extra sides, already prepared, like mashed potatoes, or garlic butter veggies. I added both of these to my order. They only come in 6 serving sizes, for $5.99. The mashed potatoes were awesome, but I don't think I'll get the garlic veggies again. Only because my picky husband won't eat most of the veggies they use, and now that I've seen how they do it, I can easily create my own pre-packaged garlic butter veggies at home with vegetables he
will
eat.
So, you have your order, and you walk into Dream Dinner with your menu in hand. What happens next? Well, they have all these stations set up, like so: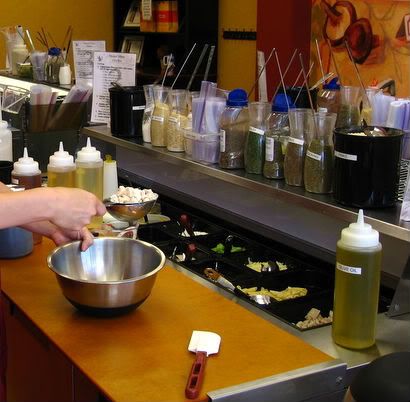 See the spices and condiments along the top shelf? And in the well behind the counter, there are chopped ingredients, and everything has an appropriate measuring spoon in it. In the far left top, on the end of the spice shelf, see the piece of paper with the "3" on it? That is the instructions for that particular meal, for the 3 serving portion. Flip the paper, and it has the 6 serving instructions. Say we're doing Orangey Asian chicken. The chicken will be waiting in one of those tubs, pre-portioned for what you ordered, in a ziplock bag. You then follow the instructions for putting together the recipe, and you put the whole thing in either a freezer bag, or one of those tin foil, oven-ready pans. Then you add a label that has the cooking instructions, and stick it on the shelf assigned to you, before going to the next station and putting your next meal together. Everything is pre-chopped, ready and open, measuring cups and mixing bowls at the ready. As soon as you step away from a station, an attendant is there doing all the clean up work. You are literally done inside of an hour. You can then choose to add one or more of the overstock items they are offering at discounted prices, pre-packaged for you already by the people who work there. Usually these are leftover dishes from last month's menu. when you are totally finished, you load everything up and take it home to put in your freezer.
Then you need to make sure you take things out to thaw in the fridge a couple of days before you're going to cook them. The bigger meals can take awhile to thaw, so I think my method will be to take a couple out at the beginning of each week, and as we use the last one, take two more out to place in the fridge. Or, if I know we need a meal for such-and-such day, plan accordingly.
I can already tell I'm going to love using Dream dinners. Tonight's meal - steak for my red-meat eater husband, and salmon for me. The salmon is a large enough portion, I'll probably be able to eat the leftovers for dinner on another night this week. Then on Tuesday, game night, I already have a roast I bought last week for the crockpot. I can already see my grocery store trips being less, and my food prep time for dinners being MUCH less. (Which, given my new obsession w/making bread, is likely a good thing!) Most things are as easy to cook as dumping a bag into a pan, or sliding an already prepared pan in the oven, and turning on the stove.
I also signed up for their rewards program - it's free, you just have to commit to coming in once a month, or close to it (they don't penalize you for skipping a month now and then.) And you get things like a % off your total order, or free meals added, or both.
And that, so far, is Dream Dinners. :)
Our friends had not seen
Avatar
, and neither had another friend of ours, and Mark's parents wanted to see it in 3D, so Saturday afternoon I bought tickets, and that night we went with a group of seven. The theater was sold out. The theater was in fact SO packed, we had to park at the grocery store waaaaaaaaaaaaaaaaaaaay across the way. This has NEVER happened to us before. Apparently,
Avatar
is still going strong! (It has grossed over $1 billion world wide! Another James Cameron "phenomenon"? I think so!) As with the first time we saw it, our theater broke out into spontaneous applause at the end.
Neytiri still rocks my socks. I think Zoe Saldana deserves an Oscar nod. But I'm afraid that even though her every facial expression and nuance of emotion comes across, the fact that she is a CGI alien for the entire movie will work against her for nominations. :(
Afterward, we again stayed up until 2:00 in the morning, talking.
Sunday was a lazy day. I made french toast out of some homemade bread (it was awesome, if I say so myself!) We had lunch at the brunch buffet a local Hungarian restaurant offers on Sundays, that is sooooooooo good. The guys played an amazing amount of xbox. I don't know how many hours, but a lot. I played some Dragon Age, while
kistha
watched "for tips" as she she is also playing it at home. But even though this is my second time through, she actually ended up helping me with some stuff I missed the first time around. :) We both decided they REALLY need to make an RPG wherein a friend can come in to your campaign at any time and play one of your party NPCs. But we consulted her husband the game designer, and if I'm recalling correctly, such an endeavor would require a certain degree of difficulty on the part of game design...but I could be wrong. I was playing when she talked to him, and only heard about half the conversation from the other room.
There was supposed to be actual tabletop roleplay happening, but zombies kidnapped our husbands for several hours, and we never got around to it. Sad. (However, apparently Left 4 Dead 2 is an engrossing game. Just FYI.)
Either way, fun was had by all, and I shall be seeing them again this weekend, when I will be trekking up north to work on Norweson costuming. :D
I have, I think, achieved the perfect bread recipe for just about anything. Sandwich bread. Hot dog buns. Hoagie rolls. Cinnamon rolls that aren't too sweet. Until the sprouted flour comes in, this is what I'm currently doing:
~ 1 1/3 C lukewarm water
~ 2 C all-purpose unbleached flour
~ 2 C white whole wheat flour (KAF, carried at my local Safeway, FYI)
~ 3 T raw honey
~ 1 T vegetable oil
~ 2 T shortening
~ 2 tsp ground kosher salt
~ 2 1/4 tsp bread machine yeast (but I have some SAF on the way w/the sprouted flour)
In bread machine:
Water, honey, oil, shortening. On top of this add, flour, then salt, then make a little well in the flour and add yeast. Turn on and watch as it mixes. Add water or more flour as necessary, until all ingredients are a slightly tacky, but not sticky, and not dry ball moving around the pan. Close lid and walk away until done.
It rises like nobody's business, and produces soft, fluffy, excellent bread/rolls/what have you, that even my extremely picky husband can't complain about. It makes excellent sandwiches or french toast. It is about 10,000 times healthier and better than storebought bread, both for the whole wheat factor, and the lack of chemicals. No cane sugar, hfcs, or milk products for those sensitive. If you just do the dough cycle, you can take it out and make two regular sized (ie, my banana bread loaf pans) loaves for sandwiches and what have you. I sent one home w/friends, and kept the other.
Current Mood:
awake