In keeping with, well, keeping to a schedule, I'm going to try to do my usual read LJ/post thing every day.
Yesterday, I admit I didn't do much. I cut out some patterns in preparation for costuming. I played some Mass Effect (preparing for the release of ME2 soon, not that I'll be buying it right away, more's the pity.) Today, I worked on jewelry, and followed up with the unemployment claim I filed. Turns out, I'll be taking a $600 per month hit to what I used to make. *winces* That's a lot of money to suddenly not have coming in. And apparently, the Unemployment office is backed up, so who knows when I'll get my first check. Of course, Oregon has one of the highest unemployment rates in the country. *sigh*
In the meantime, I'm watching Babylon 5 for the first time. A friend has been trying to get me to watch it for over a year, and now I finally have the opportunity to do it, and get her season boxed sets back to her. :) It was hard to get into it at first, but I'm on episode 8 or so of S1 now, and it's keeping me entertained.
No news from the old job, not that I expected any right away. In the meantime, I'll just keep writing and making jewelry. Once Nemesis is done, I'll look further into some freelancing. I need to do something the help make up the money I'm suddenly not earning. It's been a long time since I had to worry about having enough money for things like groceries. I don't much like it.
In any case, here's some pretty photos for you of a recent custom order. If you've been waffling about ordering something from me, now would be a good time - no waiting! :D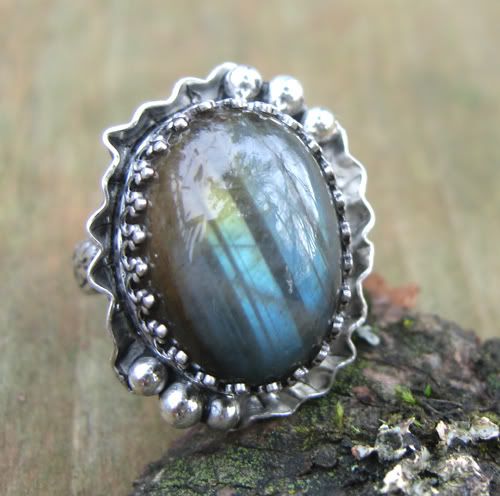 A labradorite cocktail ring. Here's a side view: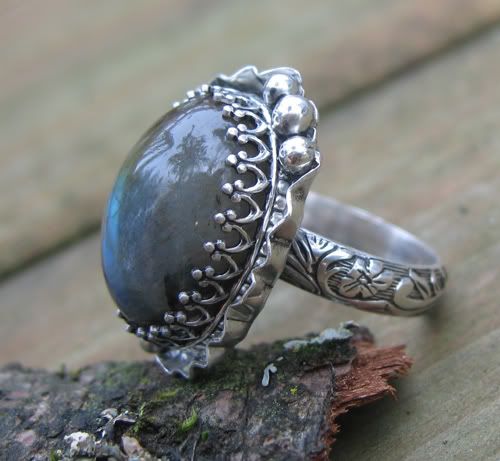 If you're interested, here's
the listing
for a ring like this one in my Etsy store.
Current Mood:
awake