So, there was a whole lot of really scary weather this past weekend. Rain, wind, tires rolling across the freeway and narrowly missing us.
But let's get down to the important bits, shall we? Like the costumes I've sewed my hands bloody making. (No really - you don't want to know how many times I drew blood with pins over the course of this; my fingers are still sore!)
Without further ado, since pictures from Norwescon are posting all over
the flickr account
already. Just to be clear, I did not take these photos; as usual, we were too busy actually being in costume to get any good photos. But M's friend G grabbed a couple with her cell, while about fifty million other people at the con got tons of us, many of the more talented among them posting to the flickr group, linked above.
kistha
's friend M decided to come, and she wore a pretty gown and played Aurora for us, so we got to run all over the con on Saturday night trying to curse her evil with us. (Because Maleficent took over all of fairy, you know, and joining her was the only way to survive. Although Merryweather seemed a little
too
happy about this turn of events. I, as Fauna, wasn't so sure...but how does that saying go? If you can't beat 'em....)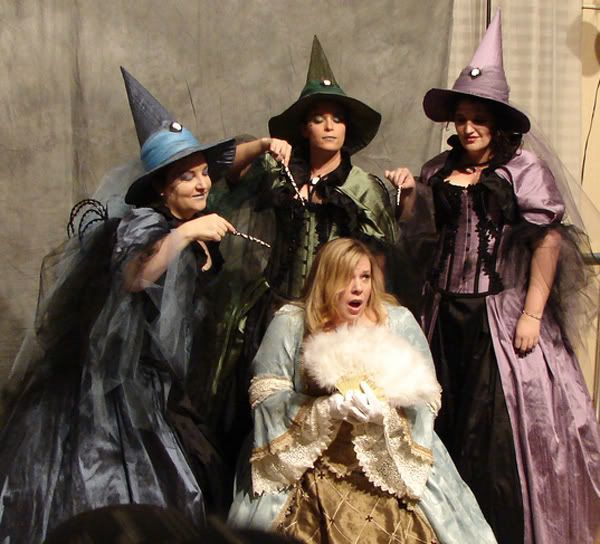 M played the perfect princess. Asking every big, strong man she passed if he could save her. Asking for ponies and kittens, while we promised to turn anyone who helped her into snakes and toads. For next year, we plan to make her an actual Aurora gown (pink), so there will be no mistaking her, but most people got it even in the blue and brown (which we did not make). Before anyone comments, yes, Flora is in purple. If you watch the movie, her dress changes colors between red, orange, pink, and purple frequently. Purple turned out to be the best choice for matching the frosted blue and green dupioni we chose for the other gowns, so frosted purple it was.

I'm Fauna, in the green, in case anyone is wondering. The hats have skulls affixed to them in the front, and our jackets are clasped with the traditional shapes they wear in the movie - circle, square, triangle - but with skulls on them. They kept flipping around, so next year we're going to wear them on chokers, since the jackets didn't really need the clasps to stay closed anyway.
Our corsets turned out awesome, and I wish we had a better close up of them. More pictures should post as people from the con go through their stashes, but for now, these are what we have...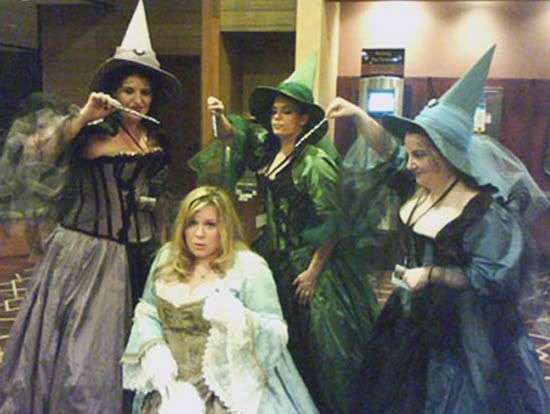 The wands are awesome! I wish I had a close up of them.
kistha
made them from sculpy, and the base is white, covered in vines and thorns of black. Gorgeous, and totally one of those pieces that "make" a costume what it is. We're fond of saying the accessories make or break a costume. And it's true. There's almost nothing worse than seeing the most awesome 17th century gown...and then the person wearing it has accessories that are obviously modern and don't match even a little. Also, fabric choice is just as important. Most of the time, a good quality fabric is what elevates you from a mediocre costume to a spectacular one. We went with dupioni silk, because we needed our three outfits to be identical save for color, and we needed the colors to be in the same tonal family. I have more than 200 swatches of colros to choose from for the wholesaler I go through, so it was easy to come up with a few choices.
Being able to use the same silk for our hats, corsets, jackets, and overskirts really made them work. We added shredded bridal tulle in black and matching green, blue, and purple for around the hats, the back of the jackets (to go around our wings) and our sleeves. It worked better than I thought it would, which was a nice surprise. Overall, the costumes were a smashing success. We got lots of recognition, most people recognized who and what we were, and one of the judges for the masquerade (Norwes's costume contest) stopped us and told us "I wish I'd seen you in the Masquerade." We didn't enter, for a whole host of reasons. But who knows, we might next year. :)
Current Mood:
pleased