So, I mentioned a little while ago that I've recently, and inexplicably, been bitten by the gardening bug.
It's not something everyone knows about me, but I grew up a farm girl. We raised beef, goats, pigs, rabbits, chickens (for one summer; the hawks living in our trees carried them all off), and I rode horses on the show circuit. And we had a huge garden every summer, a garden we kids were required to weed (ask me how much I hate garden spiders! And weeds!)
There are things I always miss about those years, now that I'm grown. Picking blackberries in the summer right out of our field, for blackberry cobbler. A freezer always full of all sorts of cuts of meat to choose from for dinner, including the halibut my Dad would fish for every year. Bottle feeding orphaned baby goats. Summer sausage later that year. (What?? I told you I was a farm girl. I was upset w/my parents for 2.5 seconds about Patches. My little sister was much more realistic about these things, even four years younger than me; she named her goat that same year "Sausage".)
And eating not only tomatoes, but cucumber and even corn on the cob while standing right there in the garden, having just picked it. Nothing you buy in the store even comes close, for any of it. Not for the beef and meat we raised. Not for the vegetables from the garden.
But farming isn't cheap, and it's a LOT of hard work. I prefer to buy my grass fed beef from some local farmer now, rather than raise it myself. But I've longed for a garden of my own for years. Back in my apartment days, I tried patio pots of tomatoes. They died. 105 degree days combined w/not being home often enough to keep the containers watered. I tried planting them in the ground when we got our house. They died. Nearest I can figure, my father-in-law sprayed weeds a good seven feet away, and the breeze carried the weed killer right onto my freshly planted tomatoes. I tried again the next year, and the deer broke off the stems at the base. (Odd for deer, but I suppose it might have been raccoons or some other critter. Lord knows we have plenty to choose from out here!)
This year, I decided to heck with it! Enough failed attempts at tomatoes! Clearly, I suck at them. Besides, I want a REAL garden! I want tomatoes, and cucumbers, and corn, and lettuce, and carrots, and pumpkins in the fall. I want raspberry bushes, and rhubarb plants.
But our soil is nothing but heavy red clay, and our house is surrounded by 80 foot tall trees on three sides, making "full sun" nigh impossible.
Still, that whole gardening bug thing won't leave me alone, so this weekend, my father-in-law, my husband and I turned a section of our yard we've done nothing with into my garden.
This section:
I spent all of Monday weeding that slope you see, while my father-in-law and Mark built my garden boxes. They used cedar, and at my request added a little "shelf" around the edges for me to sit on while I weed, plant, or harvest, and also added chicken wire to the bottom, so critters can't come up underneath and eat all my carrots and radishes.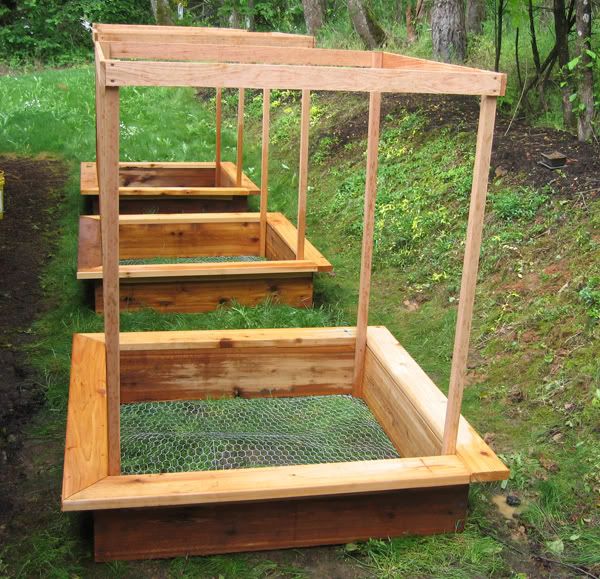 (See my nicely weeded slope? All that's left is some moss, and the ground cover I actually want to be there.)
So, to recap:
Cedar boards - approximately $200
Dirt - $56
Chicken wire and deer netting - $30
Seeds, starts, fertilizer - $20
My own garden that will hopefully be successful this year ~ PRICELESS!
Of course, if it fails, I will have spent roughly $300 for nothing. But hey, how could it possibly fail with all of this?? I've put as much effort into this as I possibly could. It just has to work!
So far, I've managed to pant my "salad" box. Tomatoes, lettuce, radishes, onions, and carrots.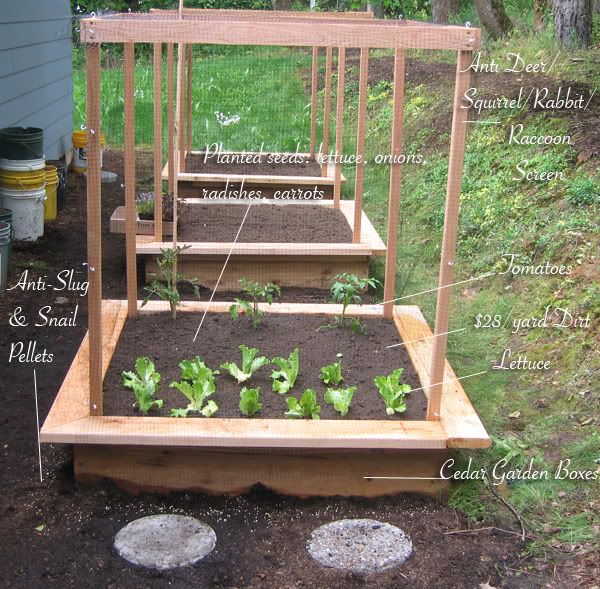 Current Mood:
accomplished