I've been working on the overskirt to the pirate steampunk gown. While fairly simple, there are still a lot of steps to it. Measuring and cutting the fabric, serging it together, ironing it, cutting the train, sewing the lining to the main fabric, serging the top edge, and pleating it. All that's left is adding the waistband and the bustling ribbons and rings to the inside. Luckily, my new dress form allows me to pin the skirt in place and take some in-construction photos before doing those last steps. :)
All in all, I have about six hours into the overskirt right now, and another one or two to go.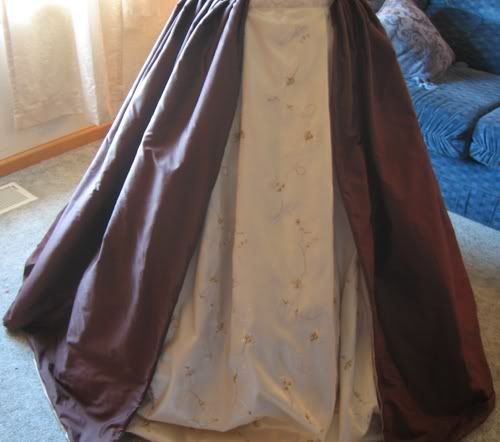 Here it is, over the underskirt, which is also over a crinoline, you know, those things brides wear under their full skirted wedding gowns to give them poof. A crinoline or hoop can really make or break the look of a historical outfit! I wasn't wearing one in t
he original underskirt pics
, so you can look at them and see the difference here.
Here's a photo of the skirt lining being serged, so you can see the gorgeous color of that silk. Once the waistband is on, I'll take more photos of various ways to wear the overskirt that show off that lighter gold colored silk lining. In the pictures here, you can just see it showing along the seams.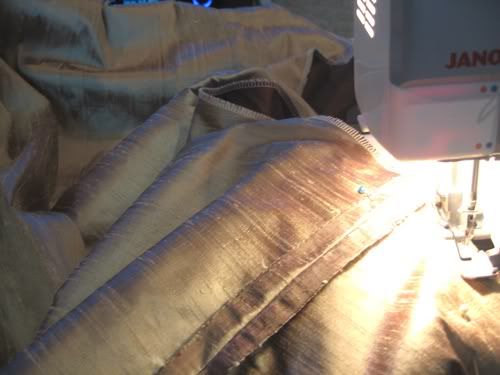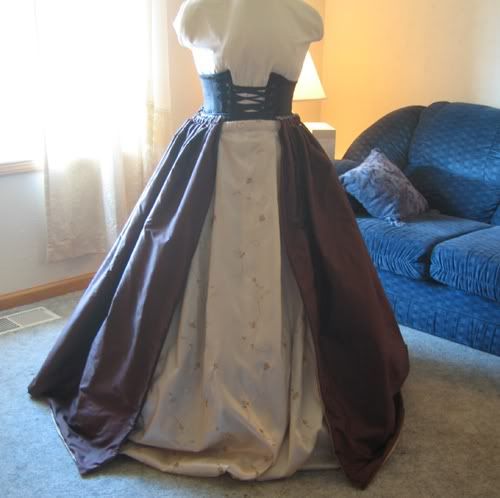 Here are the pleats in progress: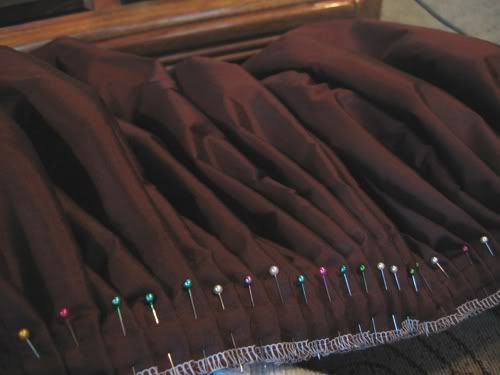 The back, showing the train:
Gorgeous, gorgeous silk. I wish the lighting showed the way it glows a little better. And here's the back with some pseudo-bustling I did by hand. This is the sort of effect the ribbons and rings I'll attach to the inside will allow, only it will look better:
Current Mood:
accomplished