Let's hope it lasts long enough to finish my paper.
I'm taking a small break from
Beowulf
at the moment - I fear I might have written myself into a corner, partly due to the
drugs
anti-cold meds I'm on so I can write the thing. Perhaps comparing Beowulf with Luke Skywalker wasn't the way to go, after all. *sigh*
Anyway, here's some jewelry business: if you're still Christmas shopping, I can guarantee by-Christmas delivery via first-class US mail for anything ordered through December 15th, which is two days from now. From that point, I can upgrade orders for an extra $2 to priority mail, which will guarantee Christmas delivery for any US orders made through December 20th. International orders are no longer guaranteed at this point, as Int'l shipping times are harder to predict.
Most recently listed item: ruby earrings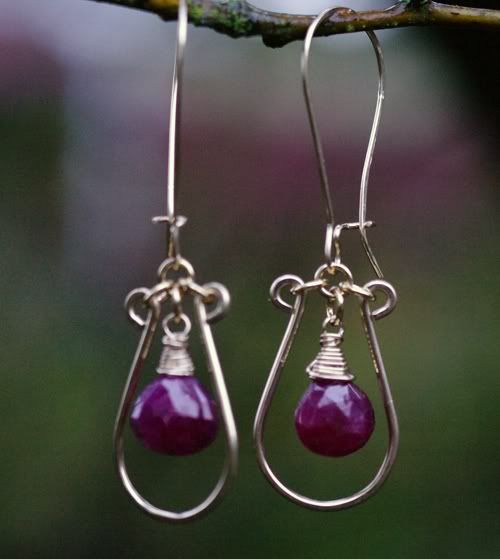 Shiny, pretty, gold. Rubies are very red, but these pics were taken around dusk, and thus don't show the color as brightly as they could. Anyway, more info and pics ay
my Etsy store
, Christmas sale still in effect!
I'm finally getting the hang of making kidney earwires. I like them, because even when I wear scarves my earrings stay in my ears, but they're a little tricker to make than my usual french hook variety. I thought I'd need to use a slightly more substantial wire to handle the way one has to manipulate them, but as it turns out, nope, 22 gauge wire still works best, IMO.