Tonight, I'm telling a story. A hair story. I think most of you have probably seen my posts about LUSH Henna, and know I've been making some hair changes. Well, those changes continue. Last week, I henna'd my hair for a third time, and finally I am happy with it. I also discovered, through a friend, a site called naturallycurly.com. I hadn't seen this friend in a really long time, and was amazed at her shorter, curlier hairstyle. I commented on how much I liked her knew cut, and she stated it wasn't actually a cut, just a different hair regime.
Well, you know me. I had to know more. She told me about the above website, and then graciously let me try her new cleanser (NOT a shampoo, more on that later) and conditioner. I loved my hair after, and so I've spent the past couple of days doing more research into this, and changing my own hair regime.
Which is where the story comes in. I'm going to put this behind an LJ cut, because it will be long-ish, and include pictures.
It's true, right? We girls always think some other girl has hair prettier than ours. We spend hours and hours, and more money than we would ever admit at salons and stores, to make our hair what we want it to be. Well, this is a story about a girl like that.
Once upon a time, when Rhien was a little girl, she had honey blond curls. She hated/loved her curls, but adored her blond hair. (This picture is not the best lighting or focus, but it's one of the few I have that actually show my childhood curls off.)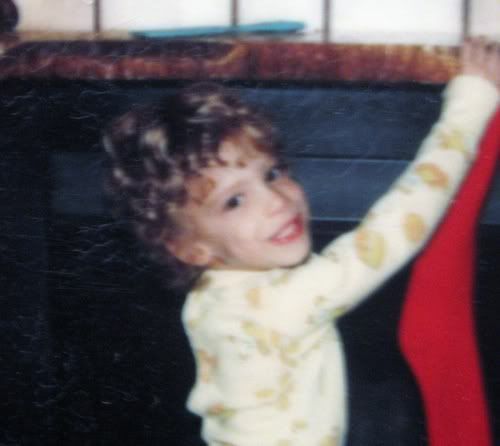 As I grew up, the color of my hair darkened, into what I thought of first as "dishwater blond", and eventually "mousy brown". Boring. I waffled back and forth about my curls, alternating between straightening techniques, to perming it even curlier. But I never learned to love the brown. Fear of harsh chemicals kept from bleaching it for a long time, but eventually, my lackluster brunette locks pushed me into attempting highlights. For the next several years, I continued going blonder and blonder, until: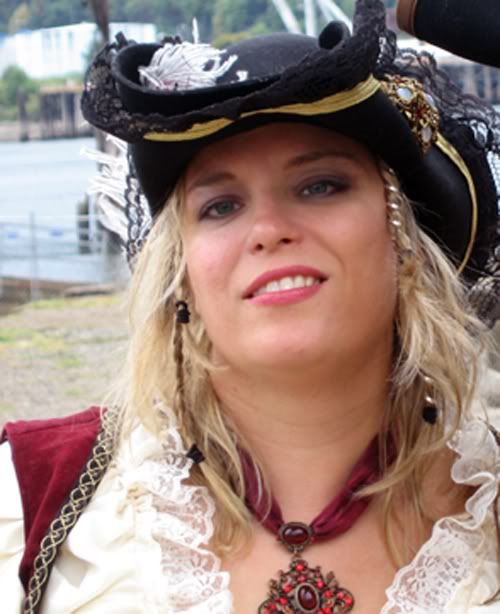 Yes. Most pictures of me are in costume. I hate my picture being taken, but costuming is one of the few times I decide it's okay. Don't you love my attempt at a piratey sneer?
Look at that. Well, to be fair, I deliberately made no attempt to do anything with my hair that morning, under the idea that pirate hair should look bedraggled at the very least. What it looks like is straw! Dry, straight, burned within an inch of its poor life!
That was almost three years ago. I was starting to think I needed to go back to my natural color, to give my hair a break. But I didn't. I just couldn't let go of the blond. Then, a couple of years later, I lost my job. Ooops, no more $$$ to splurge at the salon! We all know coloring at a salon is anything but cheap! So, looking for alternatives, I finally took the plunge with LUSH henna. Brunette with red highlights sounded pretty enough to tempt me into finally giving up the blond.
It took me a couple of henna attempts to darken that bleached blond color. You remember: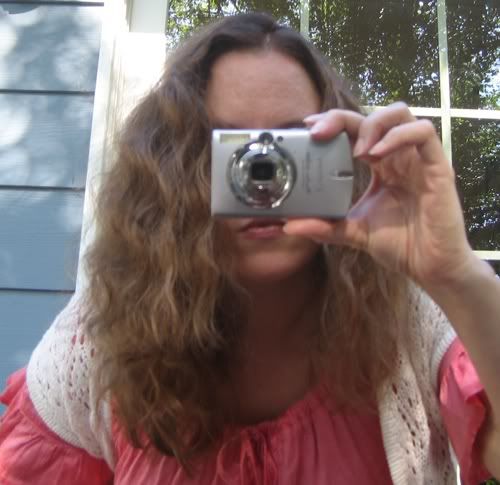 That was after the second henna. Let's talk about that for a moment. Look at how fluffy and frizzy my hair is there. That's because that picture was taken after washing, and then curling, and then eventually the curls become...well, frizz. I'm sure many, many other girls are familiar with the process.
If you visit naturallycurly.com, you will very likely discover the existence of a book.
This book
. There are a handful of others with similar information. The gist is this: we curly or wavy haired girls often spend much of our lives trying to straighten our hair. And when we're not doing that, we try to restore the curls we
used
to have by all sorts of chemicals, irons, hot rollers, and what have you. Why restore, you might wonder? What happened to those curls? Well, shampoos and conditioners very commonly use silicone to make hair shiny and smooth. Especially when it's for color treated hair. My hair tangled all the time. It was dry, and I thought heavy conditioning was the only thing to do after all that bleaching. I was so, so wrong.
I wasn't really conditioning my hair. The silicone build up was weighing my hair down, pulling my curl out and making it seem limp and thin. The silicone was also preventing my hair from absorbing any actual good moisture, but not preventing it from absorbing water that would make it frizz! No wonder I had so many bad hair days.
You see, according to this book, there are actual proper ways to treat and care for curly hair, vs. straight hair. Shampoos have harsh detergents in addition to the previously mentioned silicone. We've been trained to think of lather as good, when in fact, lather is an indication of harsh ingredients that strip our hair of the natural oils that would normally protect it. Also, washing our hair every day is not actually good for it. Note I said washing: it's perfectly okay to wet it every day, and even condition it every day with the right conditioner. But cleansing it everyday, even with a silicone and detergent free cleanser, is often too much.
Enter the Curly Girl Method, designed to care for those hair types that have natural curl or wave, and make the most of them. There are many products, both expensive and on a budget, that are Curly Girl friendly. I was personally AMAZED at the difference one day makes, and apparently the longer you follow the method, the better your curls look and get! Here is what I have been doing for the past few days:
I chose to use the same paraben-sulfate-silicone free cleanser (NOT a shampoo, which have harsh detergents!) that my friend let me borrow. It's also the same brand created by the author of the above book.
DevaCurl No-Poo
(meaning no-shampoo). Prior to this, I was already only washing my hair every couple of days. Now, I plan to use No-Poo about once a week.
I know, blasphemy, right? But have no fear. This does NOT mean your head must be dirty the rest of the week. You see, conditioner contains enough cleansing agent to work as a very mild cleanser on it's own. Gently massaging it into your scalp with small, circular motions will loosen anything built up on your scalp and then rinse it away. If you want to do this every day, you can. I use
DevaCurl One Conditioner
. It, like its cleanser counterpart, is paraben-sulfate-silicone free.
~ So, once a week, I gently work the No-Poo onto my scalp and through my hair, and then rinse. It doesn't lather at all, but I could still tell it was worked into my hair, which felt clean after rinsing. Following this, I work the conditioner through my hair with my fingers, also massaging my scalp. The rest of the week, I simply skip the shampoo step.
~ After the conditioner is in my hair, I let it sit while I do the rest of my shower routine. This takes a few minutes. Then, I DO NOT RINSE the conditioner from my hair. Instead, I cup my hands and splash this collection of water over my head and hair three or so times. With my hair still dripping, I use an old, soft T-shirt (NOT a towel!!) and with my head bent over, gently "scrunch" my hair, squeezing excess water and conditioner out through the T-shirt. "Scrunching" is cupping the strands of hair in your palms and lifting them toward your scalp, then squeezing gently. Do this all over your head until your hair is no longer dripping. Then towel the rest of yourself off as normal, without touching your hair. (The fibers of towels are harsh to your precious curls, and promote frizz!)
~ Next comes another counter-intuitive approach - do NOT comb or brush your hair. EVER. Seriously. If you can, finger-comb your locks post shower. If you can't yet (eventually you will), use a hair pic with the LARGEST gap between teeth you can find. Mine has half an inch. Only get the tangles out, and then leave it.
~ Next, apply a styling cream or gel. Joico Curl Definer, for example. Or DevaCurl Angell. Whatever you use, make sure it is silicone-sulfate-paraben free. What's the point of going through all of that if you're just going to dump all that stuff on your hair again? I have found Joico to give me curl definition without making my hair 'crunchy'. I like it quite a bit. Anyway, apply the styling agent of your choice by "scrunching" it into your hair once again. Then, let your hair dry. If you MUST use a blow dryer (I never do), use a defuser. Regular blow drying will DESTROY all that hard work you just went through. A defuser will preserve your curls.
And here is my hair now, after trying this regime for three days: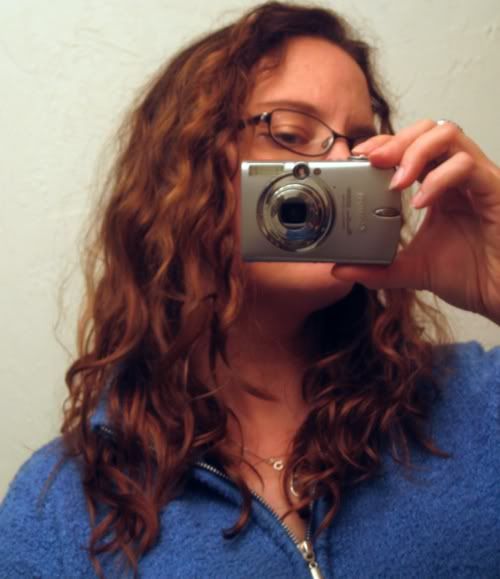 I should also mention, this was taken tonight, approximately nine hours after my shower, after running around in the rain for most of the day. (Grocery store, Target, movies). So while yes, these is a little frizz, I cannot even describe to you how limp and drab my hair would have been after this sort of day before.
I did nothing else to my hair except what was described above. It is soft, wavy-curly, had actual body, and was not destroyed by repeated ducking through the rain. (Also, I LOVE LOVE LOVE my color now. This third LUSH treatment really made it perfect. Dark enough to blend with my real color, but with gorgeous red highlights, especially out under the sun.)
I really hope that three or six months from now, those curls will be more defined. You should see some of the transformations that happen. Seriously, amazing curls. Without using an iron, chemicals, or rollers. But even if this is as curly as my hair gets, I'm still pleased. And my hair feels healthier than it's been in years...decades, in fact.
One more thing I'm going to add to my regime is Argan oil. It's the new rage across the hair care world. Except salons and salon stores are pushing it under the "exclusive" brands such as Agadir and MoroccanOil. If you look at the actual ingredients list of these, you'll find Argan oil is number four or five on the list, behind several different silicones, etc.
I ordered mine from
this place
, a reputable company specializing in organic beauty supplies. They don't put anything else in their Argan oil except...the oil. They offer inexpensive flat rate shipping, and a new 30% off coupon code in their newsletter each month. (I also ordered a couple of other things to try. The reviews I found have a lot of people really pleased with their products.)
Anyway, my plan is to work just a small dab (a little apparently goes a looooooong way) through my hair before I add my styling gel. I'll report back with my thoughts after I've tried it.
The first day I did this, I had to use my hair pic on my hair. I no longer have to. It detangles easily with my fingers after my shower. When you consider how damaged my hair was by all that bleaching, it's come a long, long way. For the first time in my life, I'm actually really happy with my hair. I don't wonder how to style it. I don't wish I had someone else's hair. And I'm no longer spending insane amounts of money at the salon every couple of months.
So let's hear some hair stories! Are there any other Curly Girls on my f-list? Or anyone on a no-Poo regime?
Current Mood:
pleased