Some new things I've been sitting on for a week or so: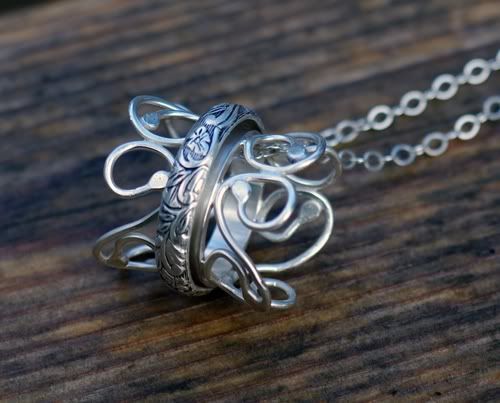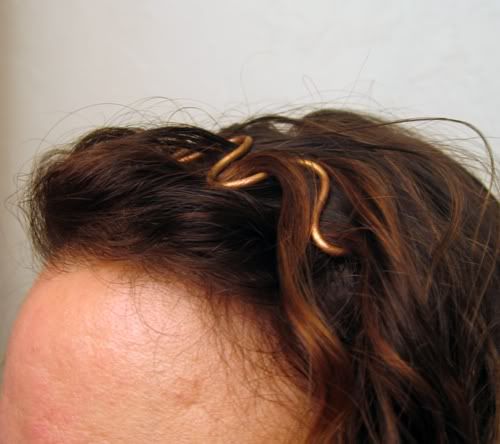 So, the top piece was going to be a "spinner" ring, but it ended up too wide to fit comfortably. It makes a beautiful necklace, though. Spinning rings and meditation rings were designed for those who like to fiddle, or even for those who don't normally. They can be useful in times of worry or stress, or just fun to play with. The spinning band is an elaborate pattern, oxidized to show the pattern. The join of the ring is a visible break in the pattern, that gives a stopping and starting place for spinning the ring around the filigree base. The filigree is designed and hand forged by me.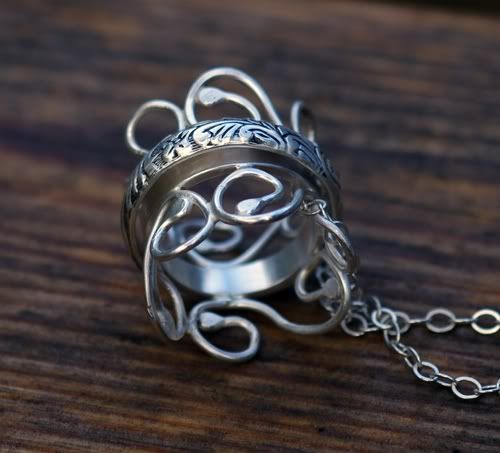 The headband is a new piece in my hair accessory line. Headbands in the store always give me headaches. I haven't worn one in years. But my new, curlier hair seems wasted in a ponytails, so I made a custom headband designed to fit the size and shape of my head. No headache yet from wearing it, in fact most of the time I forget it's even there. I thought others might be interested, so I'm offering them in my store, in either aluminum or copper. I'm asking for a measurement when they're ordered, so I can truly customize each headband for each customer.
More info and pics at
my Etsy store
.