I'm always thrilled when a piece of jewelry sells. Part of me will always be amazed, I think, that someone loves it enough to buy it. I love making things that other people delight in wearing. I couldn't possibly keep everything I make to wear myself, no matter how much I might love some of the pieces. But every one in awhile, I make something I know I'm going to regret giving up. Usually it sits for a long time before someone buys it, long enough that by the time it sells, I've moved on and made some other piece that has become my most beloved. That wasn't the case this time.
For a long time now, my goal has been to start making wedding jewelry. Engagement and wedding rings that are both beautiful, and affordable. There is nothing wrong with silver for a wedding set. In fact, it has been commonly used in wedding jewelry for many years, and continues to be, despite the jewelry industry's promotion of much more expensive metals instead. Sure, it can tarnish, but it polishes right up, and I can tell you as someone with a platinum wedding band, that baby has to be cleaned and polished on a regular basis, too, or it looks dingy and dull. I do plan to offer some 14k and 18k gold pieces, but I have to build up my sales enough to
afford
to really work in that metal. Right now I have enough to do the occasional 14k gold accent, and I can do custom work in that metal if people want to special order it.
Anyway, I have very carefully gathered some stones that I think would make really fabulous one-of-a-kind, non traditional engagement rings. Some conflict free rose cut diamonds, some tourmaline, sapphires, zircon, etc. And I've started making rings, one at a time, and listing them. This weekend I made a set I am particularly proud of. The shape and cut of this little rose cut black diamond was really difficult to work with. Thin enough to make bezel setting it hard, but with a flat back, there's really no other option. I sat and played with it, until I had an idea I thought would work, a variation of stepped bezel. It worked better than I could have hoped, and I was more pleased with the end result than I've been with a piece in a long time. It was, in a word, GORGEOUS. I fell in love with it, but it wasn't made to fit me, and besides, I designed it as a wedding set, and I already have mine. So, I photographed it, and listed it. Roughly three hours later, I got an etsy conversation from a woman in Canada who wanted to buy it. I reserved it for her, and today, she purchased it. Not as a wedding set, I think, but because like me, she fell in love with it. Part of me will be sad when I pack it up tomorrow and ship it to her, but honestly, this is exactly what I wanted. To make and sell unique fine jewelry, hopefully enough to eventually be a real income. I've had three conversations from people this weekend asking me about custom wedding rings, and now this sale. So...this may be a way for me to work, since the job hunt is not going anywhere at the moment.
Here's some pictures of the set that sold. You can't, as normal, go look for it at
my shop
, but you can find it under
sold items
if you want to look at the listing.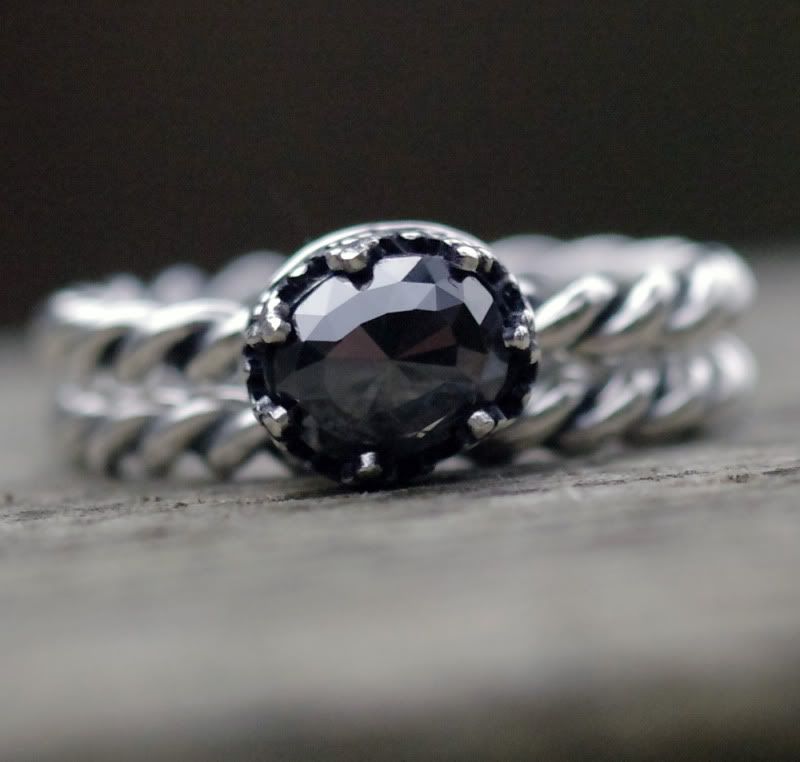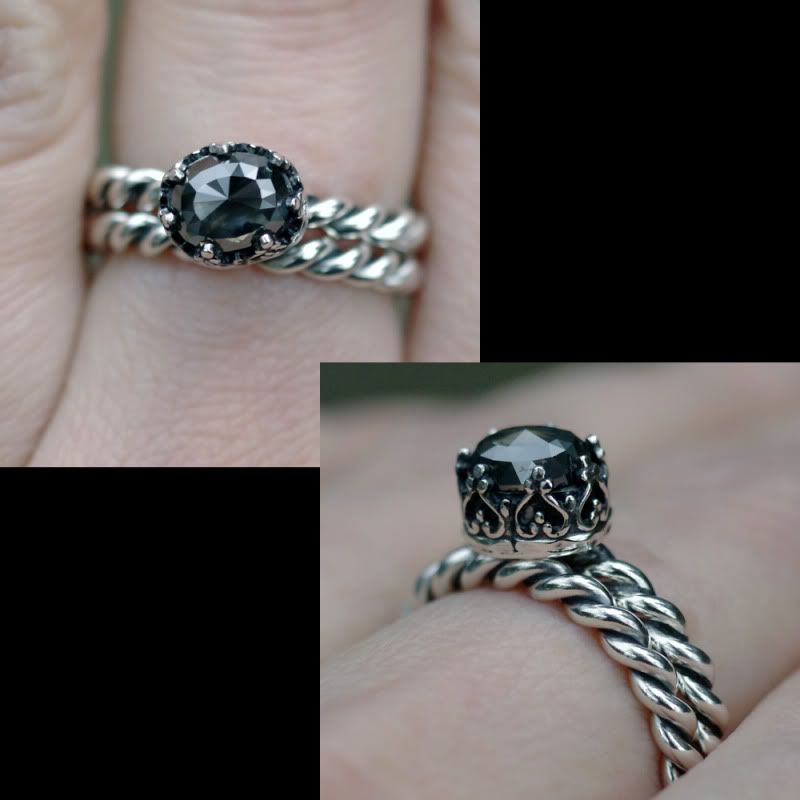 I am sad to see this one go, but glad it's going to someone who loves it as much as I do.